Science Education with Art Infusion
NNC has received generous grants from many funders to help it further develop and enhance the interconnected arts and science programs and exhibits that we offer to the community.
Building Insights through Observation: Researching Arts-Based Methods for Teaching and Learning with Data Beginning in July 2021, Nurture Nature Center will lead this four-year project funded by the National Science Foundation's Discovery Research PreK-12 program. The project will conduct foundational research to understand the ways in which arts-based instructional methods and geospatial data visualization can be successfully applied by science teachers. Click here for news post.
6 Degrees of Connection: Understanding the Interconnectedness of Earth Systems Nurture Nature Center was awarded a 2 year grant from NASA's Competitive Program for Science Museums and Planetariums to develop Science on a Sphere® and art programming for middle school students on their connections to earth sciences. Click here for project information and resources.
An Int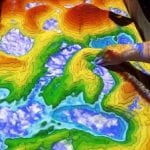 eractive Watershed Exhibit: Augmented Reality Sandbox for Teaching Watershed Science  With  a grant from the Lehigh Valley Greenways Conservation Landscape, Nurture Nature Center was able to build and install an Augmented Reality Sandbox, a dynamic hands-on exhibit that combines a sandbox with 3D visualization of colored topography and water that changes in response to visitor input.  See full description.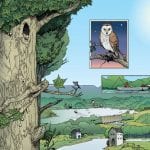 Living Local Mural  Scenarios, Decisions and Consequences  With funding from a private donation, and later additional support from a Department of Environmental Protection grant, NNC produced a Living Local Mural and accompanying educational guidebook. This beautiful 14.5' x 5' curved mural exhibit showcases a range of local environments, from an urban downtown to a rural stream and features over 80 environmental talking points. The mural, created by artist Tom Maxfield, took over 2 years to create. See full description.
Nature Journaling: This was a two-pronged project supported by a grant from Pennsylvania Partners in the Arts and through a PADEP Environmental Education grant. In one prong, called the Art of Nature Journaling, NNC explored nature journaling through the lens of the artist. In the other part, NNC explored nature journaling as a teaching tool, through the development of an instruction booklet and program designed to aide science educators at the Middle and High School level. The guidebook, Building a Teacher's Notebook: STEM-Learning through Science-Based Nature Journaling, can be found here.

Climate Series and Earth as Art This was a four-part project supported by Pennsylvania Partners in the Arts and NOAA, which featured two public presentations on our changing climate and human activity on Earth, two community arts workshops reflecting on our connections to the landscape, and a community-wide forum. An "Earth as Art" mural was created to commemorate the project. See full description.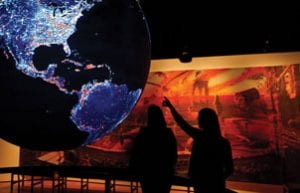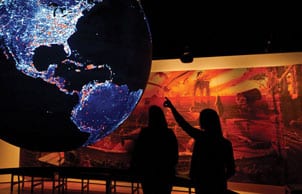 Science on a Sphere® and Flood Forums: Education to Action In 2010, Nurture Nature Center received an award from NOAA's Office of Education Environmental Literacy Grant program to install and program a new Science on a Sphere® at Nurture Nature Center. This grant funded the purchase and installation of the SOS® exhibit, which ushered in the opening of the NNC facility to the public on October 1, 2011. As part of this project, NNC worked with Lehigh University to create a new program about climate and flooding, called "Rising Waters," which included new visualizations for the SOS network about flooding globally. This program was disseminated to the national network of SOS sites. (Funded via NOAA Award Number NA10SEC0080020, October 1, 2010.)