Social Science and Natural Hazards
Nurture Nature Center was founded on the need to educate the public about flood risk, and continues to advance the work of flood outreach, education and social science research. Using social science research techniques, NNC has helped advise National Weather Service  on how to improve flood forecast products to better improve public response during flood events. Through education and outreach programs, NNC has partnered with agencies including the Federal Emergency Management Agency (FEMA) and National Weather Service (NWS) to help inform communities about how to be better prepared in the event of coastal or riverine flooding events.
Information about NNC's social science research and other flood projects can be found below, and in greater detail on our Focus on Floods website.
National Science Foundation: Community Flood Forums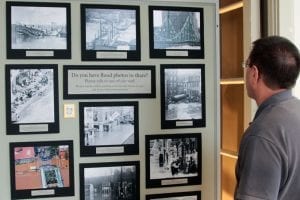 In 2009, Nurture Nature Foundation was awarded a grant from National Science Foundation to develop and host a series of flood forums in Lehigh Valley communities, including Easton, Lower Mt. Bethel Township and Allentown, all of which were heavily affected by flooding. These forums, which involved science education and dialogue among community leaders, residents and emergency responders, were highly successful in motivating public audiences to learn the science of flooding, and formed the basis of NNC's Risk to Resiliency forum model. (Funded via NSF Award Number DRL-0917439, August 1, 2009).
Focus on Floods One of Nurture Nature Foundation's early projects (2009-2012) was the Focus on Floods awareness campaign, funded by National Oceanic and Atmospheric Administration to educate residents in the four states of the Delaware River Basin about the use of various flood forecast products and alerts available through National Weather Service. NNF developed a wide range of multi-media educational resources, including videos, a short animated film, classroom posters and coloring and activity pages, and also hosted professional educational workshops and public events around the topic of regional flooding and preparedness. Focus on Floods materials were disseminated widely throughout the Delaware River Basin and across the country, and the Floods website contains downloadable .pdfs, the film, and other resources for teachers and educators. (Funded via NOAA Award Number NA09NWS4670005, September 1, 2009.)
Research Study of NWS Riverine Flood Forecast Products In 2012, NNC was one of four institutions funded by NOAA's Office of Atmospheric Research (Office of Water and Air Quality) to study decision-making during extreme weather events. NNC's project, "Flood Risk and Uncertainty: Assessing the Flood Forecast and Warning Tools of the National Weather Service" was a social science research study of  NWS riverine flood forecast and warning products, and included focus groups and surveys in Easton, PA and Lambertville, NJ. Recommendations from that study have been operationalized by National Weather Service. More information, including final report, is available at socialscience.focusonfloods.org. (Funded via NOAA Award Number NA12OAR4590115, September 1, 2012.)
Research Study of NWS Coastal Flood Forecast Products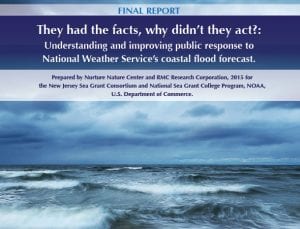 As a follow-up to NNC's riverine study, in 2014 NNC was awarded a research grant to study NWS's coastal suite of flood forecast and warning products, with an emphasis on the use of emergency briefings as a communication tool. That grant, "They Had the Facts, Why Didn't They Act: Understanding and Improving Public Response to NWS Coastal Flood Forecasts," was funded through NOAA Sea Grant and the New Jersey Sea Grant Consortium and involved focus groups and surveys of New Jersey communities affected by Superstorm Sandy. More information, including the final report, is available at socialscience.focusonfloods.org and coastal.focusonfloods.org. (Funded via NOAA Award Number NA130AR4830227: R/CSAP-2-NJ, January 2, 2014.)
Research Study of NWS Ensemble Forecast Products Through a grant to East Carolina University from NOAA's CSTAR program, Nurture Nature Center in 2016 undertook its third social science research study of NWS Products. This project, "Major Risks, Uncertain Outcomes: Making Ensemble Forecasts work for Multiple Audiences," used focus groups and surveys with residents and emergency managers in West Virginia and Maryland to understand how NWS' Hydrologic Ensemble Forecast System works and could be improved for various audiences. Final report with findings can be viewed here. (Funded to East Carolina University via NOAA Award NA16NWS468000, May 1, 2016, with subcontract to Nurture Nature Center.)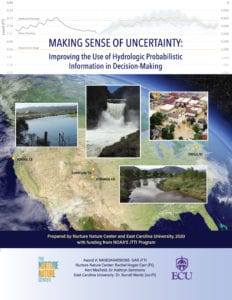 National Research Study of NWS Ensemble Forecast Products Advancing NNC's prior research about how various audiences use and understand probabilistic hydrologic forecast information, in 2018 NNC with its research partner East Carolina University (ECU), undertook a two-year mixed-methods social science research study of three forecast products to propose improvements to the display and communication of uncertainty and probabilistic information in hydrologic forecasts. Specifically, the team studied how: a) Advanced Hydrologic Prediction System (AHPS) and regional hydrographs (e.g., hydrographs developed by NWS RFCs or WFOs); b) outputs from the Hydrologic Ensemble Forecast Service (HEFS), including seasonal water supply forecast related products; and c) briefings for impact-based decision support services (IDSS), work together to convey the complexity of certainty and uncertainty in short, medium-term and seasonal hydrologic forecasts. Working with the Middle Atlantic River Forecast Center (MARFC), the Colorado Basin River Forecast Center (CBRFC) and the California Nevada River Forecast Center (CNRFC), as well as local Weather Forecast Offices as additional support partners, NNC used scenario-based focus groups, surveys, and interviews to test and develop prototype demonstrations of forecast uncertainty that can be incorporated into operations. A final report is pending and will be posted here when complete.  Deliverables include a series of user-tested prototype products, developed in cooperation with operational offices as well as research findings and general recommendations for probabilistic communication. The final report can be viewed here. (Funded via NOAA Award Number NA18OAR4590365, via the NOAA Office of Oceanic and Atmospheric Research, Office of Weather and Air Quality, October 1, 2018.
Other Projects: In addition to its work under these grant-funded projects, NNC has also been retained as a subcontractor under contracts funded by federal and state governments, to conduct hazard-related outreach, education and research work. NNC has worked as part of a team to help the Pennsylvania Emergency Management Agency to update its State Hazard Mitigation Plan, has assisted the New Jersey Department of Environmental Protection on flood-related outreach and education in support of FEMA initiatives, and has worked as part of project teams with various offices within NOAA, including the Weather Prediction Center and National Water Center, on projects to improve products and services.