The Nurture Nature Center has developed a forum model for fostering community dialogue about environmental risk topics and has used it in many contexts, with adaptations for particular projects. The model is designed to help community members learn about environmental issues– including science, policy and other considerations– and then deliberate with neighbors and community leaders on priorities for addressing those topics locally. We have found that our process for facilitating community dialogue, which is grounded in research from several disciplines, including public education in science, natural hazards research, and deliberative democracy, unites rather than divides scientists, laypeople, and decision makers, leading to many positive outcomes. Some of the projects we have undertaken that have used our forum model, along with other community engagement techniques, are listed below, organized by funder.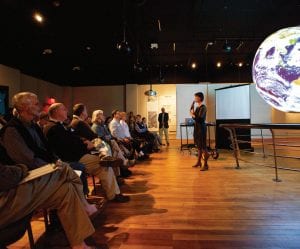 National Science Foundation Project: An early project called "From Risk to Resiliency," funded by the National Science Foundation, was designed to help residents better understand flooding and related land use and water management issues; to collect and share their concerns and priorities with area decision-makers and legislators; and to help NNC plan programming and exhibits to meet the community's needs. As part of the project, we hosted a series of focus groups and forums in local communities at high risk for flooding, followed by two regional forums that included decisionmakers. One teaching from the project was that forums can serve as a powerful tool for learning if they touch on a subject of immediate concern to the local population. At the conclusion of the work, NNC prepared a guidebook for dissemination to other organizations on how the forum approach can be used to communicate science learning about local environmental risks and enhance community resiliency. For more information on our Risk to Resiliency project, click here.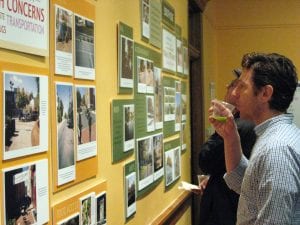 Institute for Museum and Library Services Project: In a project funded by the Institute for Museum and Library Services, that was designed to position NNC as a community anchor, NNC applied and refined its forum model to better understand the needs of the local population. As part of this project, dubbed "Easton Matters," NNC adapted its Risk to Resiliency model to use it as a needs assessment tool that identified topics of resident concern in Easton's four neighborhoods through surveys, focus groups, Photovoice projects, and community dialogue. While the immediate audiences served were the residents and officials of Easton, NNC also developed recommendations for replication in other locations in an accompanying evaluation report and has disseminated the findings to other science centers across the country. As a result of this project, NNC increased the number of repeat visitors from the community, strengthened its relationships with local community organizations and is now regarded as an essential partner of the City. For more information on the Easton Matters project, click here.
City of Easton Projects: The City of Easton has retained NNC to help in a number of projects involving a local engagement component. In one of these projects, NNC was asked to host a series of community engagement meetings with residents as part of a planning campaign, to determine what they like best about living and working in Easton, what they value about the city, and what makes Easton stand apart from other cities. For details, click here. In another, NNC is a partner with the City on a project designed to build a resident-driven neighborhood plan for the West Ward and to create ongoing mechanisms for increased resident-city communication.
Other: Nurture Nature Center has also applied its forum model extensively in multiple projects funded by National Oceanic and Atmospheric Administration, for the purpose of improving communications with the public about flooding and related risks. Information on these projects is available elsewhere on this website.