Explore Science on a Sphere (SOS) Yourself with the SOS Explorer!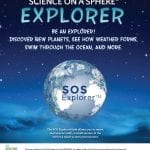 Nurture Nature Center is excited to launch our newest exhibit – the SOS Explorer Touch Screen Kiosk.
The kiosk allows you to move, and interact with, a small version of the SOS in a touch screen environment.  Explore volcanoes, satellites, comets, Saturn's rings, whale migrations, weather, climate change, and so much more.  Specially designed tours will lead you through various topics and ask you questions along the way.  You can even take a virtual walk on the moon and drive an underwater robot (ROV) to take photos of fish and corals.  Visit NNC to explore, learn, and have fun!
The kiosk is available for use during our Open House Hours (see here).  No fee is required but donations are appreciated.