For better or worse the term "resiliency" is used a lot these days to describe communities facing the impacts of natural hazards and climate change. With more and more billion dollar disasters and already a slew of severe weather events in 2023, a growing number of communities are left picking up the pieces. It would be great if communities were more prepared for these disasters and could bounce back more quickly with reduced loss of life, injuries, and property damage. But how do people actually use the term "resiliency"? Let's take a quick look at some of the different ways the term is used and reflect on how we think about resiliency at the Nurture Nature Center.
When we look across the academic literature and the ways that individuals and organizations define resiliency, the definitions generally fall into categories of reactive resilience, responsive resilience, and proactive resilience. Reactive resilience is focused on returning a community to their previous state after a natural disaster or other critical event. It can be said that the goal here is a return to the status quo from before the disaster. Often, reactive resilience projects are top-down, meaning that the work is directed by people in positions of power and the effects trickle down to individual residents with little input from the residents themselves. After a flood, a reactive resilience solution might be to repair the damage to a house that was flooded. Repairing the damage to this house, especially if it is in a floodplain, does nothing to prevent the same situation from happening again with a future storm. While returning a community to its previous state is an admirable goal, in many cases, a community's previous state was not good enough. Decades of historical disinvestment paired with repeated impacts from multiple storms have not allowed some communities to recover. For these communities, reactive resilience is simply not sufficient.
Responsive resilience goes further than reactive resilience to help communities better withstand future nature hazards and climate change effects. Rather than rebuilding a flooded home in the exact same way, a responsive resilience approach would rebuild the house using better materials or perhaps on stilts at the same location, for example. However, responsive resilience also goes beyond just thinking about the individual resident. Instead, the approach incorporates the expertise and lived experiences of many relevant actors from different levels of power rather than relying only on a top-down model. The approach is about returning to the status quo and then going beyond it to create a new status quo for a community so that it is better able to withstand a future disaster. This continual striving for improvement leaves communities stronger, but responsive resilience still operates largely within current systems which has limitations.
Thinking beyond current systems and structures and seeking real transformational change defines proactive resilience, the most rare type of resiliency work. This type of resiliency work involves collaboration from everyone, from individual community residents to the government, to rethink institutions, structures, and power dynamics. Equity is at the forefront. Proactive resilience considers how entire systems and processes need to change to make them work for everyone. In our flooded house example, this might mean the house's resident has an equal voice to share their experiences and help to reshape systems to make it easier for them and others in the future to get funding to build a new home in a different location. It might also mean moving out of a floodplain before a storm event hits as a proactive measure. Proactive resilience requires constant reassessment of efforts to make continual improvements and ensure that no groups are systematically left behind or experience consistent disinvestment.
That was a lot of information! Do any of these definitions surprise you? Where do you think your community fits in terms of the different types of resiliency work?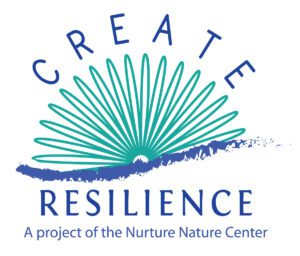 Here at the Nurture Nature Center, we do not engage in reactive resilience work because the status quo for Easton and the Lehigh Valley can always improve. Instead, our projects are responsive and proactive. Our CREATE Resilience project convened youth, municipal leaders, and members of the Easton, Wilson, and Bangor communities to learn about community hazards, consider strategies for hazard mitigation, and co-develop a vision of a more resilient future. The ongoing follow-up CREATE Resilience Research and Community Learning Hub is informing the development of resiliency plans, asset mapping, and vulnerability assessment templates so that smaller municipalities can more easily identify community assets and strategize about ways to leverage those assets to increase community resiliency. We are also striving for proactive resilience through participation in creation and implementation of Easton's Climate Action Plan that will transform our city. 
Over the next few months, we will continue this deep-dive into building community resilience here in Easton. Using an activity book we co-created with the National Oceanic and Atmospheric Administration's Environmental Literacy Program as a guide, we will work to identify community assets, incorporate Traditional Ecological Knowledge, consider environmental justice issues, and ultimately work towards taking action to make our community better. Please continue to follow this blog to stay informed!
If you are interested in learning more about resiliency efforts in Easton and want to participate in those activities, we have an opportunity for you coming up on Saturday, April 29th, 2023, as we host the 4th Annual Youth Climate Summit of the Lehigh Valley! This in-person event in Easton has a morning session open to the public where Megan Wolff from Beyond Plastics will discuss plastic pollution issues and how you can help. Any youth from the area are welcome to attend for the entire day, which will include peer learning, lunch, and activities including tree plantings, a trash pick-up, and a trash audit. Any area youth are encouraged to register here! If you have any questions, please reach out to our Science Director, Kate Semmens, at ksemmens@nurturenature.org.