Building Insights through Observation

Building Insights through Observation is a project funded by the National Science Foundation, designed to advance our understanding of how science teachers can learn to incorporate arts-based teaching methods and visualizations of authentic science data into their pedagogical practices in order to improve students' data literacy and critical thinking skills. 
Who Should Apply 
You are a middle school (grades 6-8) STEM teacher with an interest in expanding or incorporating data visualizations in your classroom. You are teaching STEM content for which global, geospatial data would fit with your curriculum – such as Earth Science or Life and Physical Sciences, but we encourage any science teacher interested in learning new ways of teaching with geospatial data visualizations to apply. You have room to grow in your knowledge of how to effectively use data visualizations in your curriculum. You will be able to get administrator (Principal) sign-off to participate in this project. 
We are open to teachers from any location in the US but teachers must be willing to travel to eastern PA in June for the workshops.
Teachers Will 
Be part of foundational research to discover how arts-based instructional techniques can meet curricular needs and improve data literacy.

Receive professional development about using arts-based instructional approaches to incorporate complex, authentic datasets in their classroom to help students deepen understanding of STEM concepts and build critical thinking and data literacy skills.

Get connected to networks and resources to expand their professional development

Create their own curriculum that uses Science On a Sphere data to enable students to more deeply understand STEM concepts and the world around them
We Provide
Participation in this PD will be an intensive, as well as professionally rewarding, experience. Teacher partners will be expected to co-develop, iteratively test, and engage in reflection about the arts-based techniques over a 2-year partnership with our team.  (See expectations below for details.)
In recognition of the time, effort, and commitment we ask of our teacher partners, the project will provide compensation:
Stipends of up to $4000 for completion of tasks between June 2023 – June 2024. 

$1200 to pay for travel to and from workshops each summer (2023 and 2024) in Easton, PA – outside of Philadelphia.

Opportunities to connect, collaborate, and learn with your cohort and project staff – experts in Earth science data from NOAA, data literacy development, arts-based teaching, and science curriculum writing – throughout the year. 

Opportunities to experiment with and learn about new methods of teaching and learning through arts-based techniques.
Expectations
You will be a partner and collaborator in our PD and research project, helping create and refine new, innovative approaches to teaching with data in STEM classrooms. Your full participation across the three years is critical. That participation will include:
Attend the full professional development workshops (2-3 days in summer 2023 and 2024), at which you will receive training on the arts-based techniques and a model for using them in STEM.

Adapt or develop a curriculum after the workshop based on guidelines provided during the workshop. The project team will support and provide resources to teachers at all times throughout this process. 

Implement and iteratively revise the developed curriculum during the school year following the workshop.

Complete reflections after each arts-based lesson/unit you test; video record at least one teaching episode per semester.

Participate in monthly virtual check-in calls and a mid-year reflection to guide iterative changes and refinement to your approach.

Complete several interviews and surveys about your needs and experiences throughout the process (typically once per year).

Due to the iterative nature of the development process, teachers are asked to participate in the full length of the project.
Please fill out this short application if you are interested in this opportunity by DEADLINE October 15th, 2022.
In addition to filling out the form, send the following to ksemmens@nurturenature.org  by DEADLINE October 15th, 2022
Administrator sign-off on participation in the project. You may use the following form or have your admin write a letter of support:

"Building Insights Through Observation Administrator Sign-off"

A short (1-2 minute) video introducing yourself and discussing why you want to learn more about teaching with data visualizations and what you have found challenging or difficult about teaching with real data – or even just the idea of it.
Those selected will be notified by November 1st, 2022.
Hear from our current cohort of middle school science teachers about their participation in the Building Insights through Observation program.
Note: We will be working fairly intensively with ten teachers over the course of four years of the project. Teachers who are not selected will have plenty of opportunities to take advantage of the methods and tools created as part of this research.
**The methods the researchers use to collect, record, and store the data from student interviews and classroom recordings have all been reviewed and approved by an independent Institutional Review Board, which ensures that students' and parents' rights and personal information are protected at all times.  A student's participation in the interviews is fully up to them and their parents – no student will have to participate if they don't want to.**
Feel free to reach out to project P.I., Dr. Kathryn Semmens with any questions, ksemmens@nurturenature.org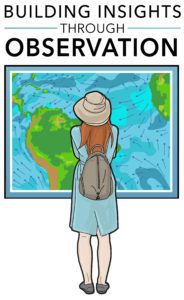 This material is based upon work supported by the National Science Foundation under Grant No. 2101310. Any opinions, findings, and conclusions or recommendations expressed in this material are those of the author(s) and do not necessarily reflect the views of the National Science Foundation.