"Start with the soil!" is accepted, time-honored garden wisdom. But … what if you don't? What if you just accept the dirt you are given and make it work for you—without adding compost or fertilizer, without increasing the Nitrogen content or upping the percent of Organic Matter? And what if that dirt happens to be gravelly rubble, with almost no soil?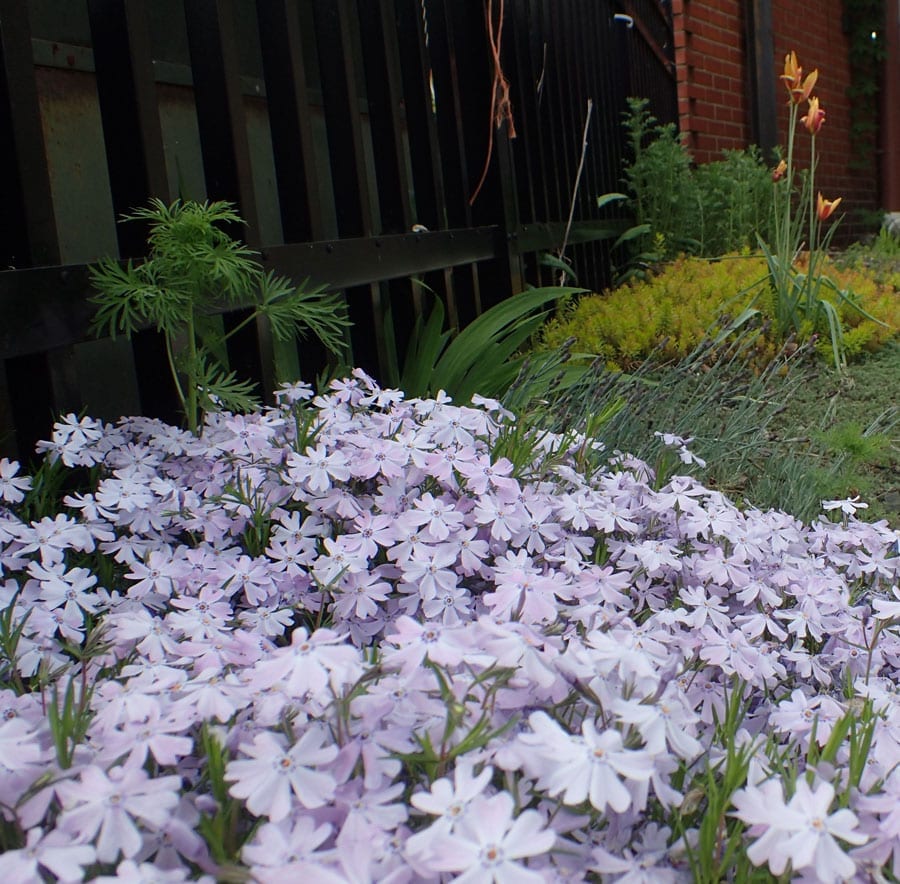 There are natural areas populated by beautiful plants despite having what we gardeners might consider poor soil. Think of the Serpentine Barrens in southeast Pennsylvania, carpeted in spring with moss phlox (Phlox subulata) and serpentine aster. And there are arid grasslands of California resplendent with California poppies (Eschscholtzia californica), and droughty, rocky soils in southern Europe made brilliant by wild thyme.
A "scree slope" is the consequence of the degradation and subsequent erosion of a rock face. Around the world you might see natural scree slopes populated by thrift (Armeria maritima), toadflax (Linaria spp.), sedums, pussy toes (Antennaria spp.), rock cress (Arabis spp.), poppies, hens and chicks (Sempervivum spp.), and many other species. Visit Chanticleer Garden in Wayne, PA for a stunning example of a beautiful and colorful gravel garden, modeled on these types of landscapes.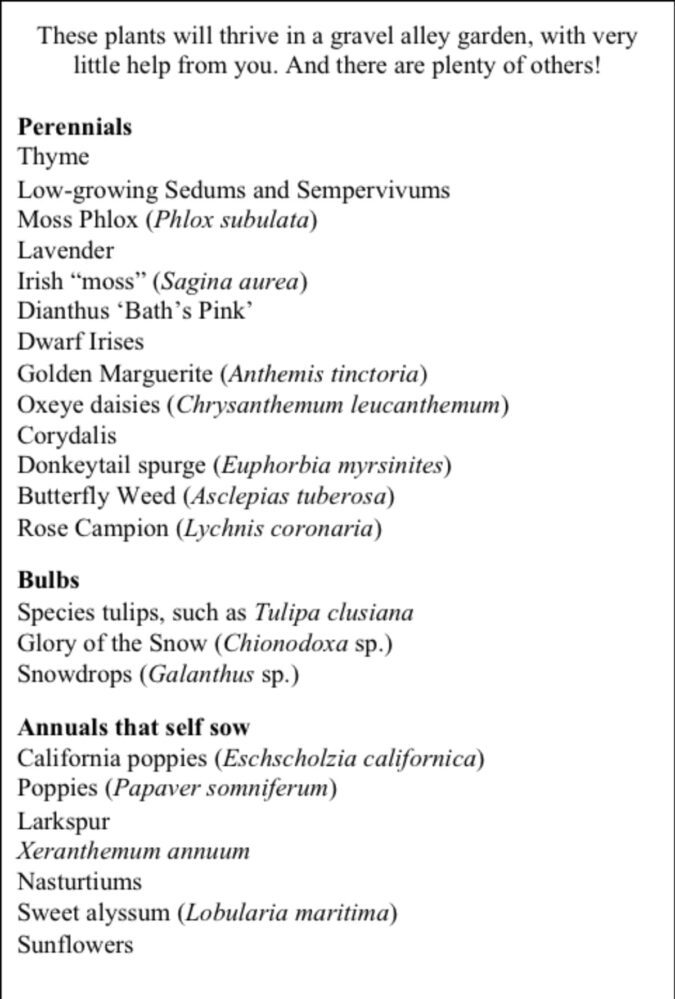 Keep in mind too that weeds grow anywhere. They pop up in the cracks of the sidewalk; they cover abandoned lots and roadside ditches. They survive despite our best efforts to eradicate them. Their tenacity is positively inspiring!
Anywhere a weed can grow, something more desirable can grow. Therefore, it follows that you can cultivate a beautiful garden in a waste space, such as a back alley, and you can do it with very little money or effort. One lesson to be learned from nature is: Discover the survivors of the plant world, and then let them work for you. 
Using Nature's Lessons to Beautify an Alley
I've been experimenting with planting a gravel garden for the past three years in an alley on Pine Street adjacent to the Nurture Nature Center Urban Recycle garden in downtown Easton, PA. Before I began this alley makeover, the narrow space was filled with the usual suspects: dandelions and plantain, burdock and evening primrose, grasses, and the occasional tree seedling. The invaders were whacked down once a year so that the alley could function as a fire escape route. In short, the space was a weedy mess, where dogs did their business and people dropped their food wrappers and empty cigarette packs. A solution to the eyesore might have been asphalt pavement, which would have created an eyesore of a different type. Plus, a paved surface would contribute to storm water runoff. An alley garden, on the other hand, absorbs rainwater.
This was a no-budget project. I started with divisions taken from the 'Bath's Pink' dianthus and moss phlox I had planted elsewhere, seeds of self sowing annuals such as dill and larkspur, a couple of creeping thyme and wooly thyme plants, and some Sedum 'Angelina'. In no time at all, these gravel-loving survivors began to fill the space. Golden Marguerite (Anthemis tinctoria) migrated from the garden proper, and a couple of stray sunflowers seedlings took root. I dropped some 'Lauren's Grape' poppy seedheads and a pack of 'White Linen' California poppy seeds into the rubble, just to see if they would germinate. I planted a handful of lady tulips (Tulipa clusiana) in the hope that they would eventually self-sow as they do in the stony hillsides of Afghanistan. Last year I tucked a few dwarf crested irises, which grow naturally on our rocky, wooded slopes, in an area shaded on both sides by tall buildings. They are thriving. Everything, in fact, is thriving.
The surprising thing about this urban alley—a forgotten space that got no respect—is that, although the plants I have populated it with were chosen because they can take abuse, they are not abused. Since the makeover there has been no vandalism, no trash, no dog poop. Transforming this neglected alley has worked some minor magic, as I witness this simple act of stewardship being passed along day after day.
Respect begets respect. This is a good thing to remind ourselves of from time to time.
Here are the rules I follow in nurturing the Pine Street Alley garden:
The plants I use must not need watering.
They must be cheap or better yet free. Each one is an experiment and it may not survive.
If someone stomps on the plants, that has to be ok. This is not a precious garden.
Because the alley is a fire escape route, plants in this area must allow for egress.
The process is all about experimentation and fun. If something doesn't work, no regrets!
(Originally published in the Easton Irregular)

Horticulturist and writer Pam Ruch, caretaker of the Nurture Nature Center Urban Recycle Garden, tends gardens in the Lehigh Valley and beyond, and presents gardening and nature journaling programs throughout the region. She explores the intricacies of nature on her website, ArtofNatureJournaling.com.