Hands-on Science Programming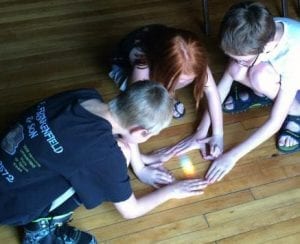 Hands-on science programming is available at NNC or your facility. It can be included as an add-on program to a Science on a Sphere presentation for an additional $2/person. As a stand-alone program either at NNC or your location, the cost is $5/person (minimum $100).
Geology
Length: 1 hour
Ages: 10 and up
What is the earth made of? Why is the earth made of layers? What is the history of the earth? How do we know about the past by looking at geology and the rocks beneath our feet? This program features demonstrations of deposition, the interior composition of the earth, and a wide assortment of mineral and fossil specimens.
Focus on Floods
Length: 1 hour
Ages: 8 and up
Why do floods happen? How does land use influence the severity of flooding? How can you stay safe during a flood and what can we do to reduce the damage from a flood? This program features demonstrations and experiments with a flood table. Experiments include flooding a model of two towns under changing conditions. A short movie about flooding and worksheets are also provided.
Journey through the Solar System
Length: 1 hour
Ages: 7 and up
What is the solar system? What makes each planet unique? Learn about details of the 8 planets and the comets, asteroids and gases that make up our solar system. Learn about why and how we study space and the threat of asteroid impact. This program features experiments on the structure and formation of impact craters, demonstration of the relative sizes and distances to the planets, and how to use a telescope.
Energy
Length: 1 hour
Ages: 11 and up
What is energy? Where do we get energy from today and how might we get it in the future? Learn about the advantages and disadvantages of various sources of energy and what is so special about solar energy. This program features demonstrations of how various sources of energy function, with working examples of engines, generators, wind, hydropower, nuclear, fossil fuels, biofuels, and solar.
Weather
Length: 1 hour
Ages: 8 and up
What is the difference between weather and climate? How do we study weather? How do we predict weather? What are the basic rules that govern the behavior of the weather? This program features experiments about air pressure, heat, wind, humidity, and a look at a weather station.
Magnetism
Length: 1 hour
Ages: 7 and up
What is magnetism? How do magnets work? Learn about the different kinds of magnets – electromagnets, permanent magnets, diamagnets, ferromagnets, paramagnets, and the earth as a magnet. Find out how we use magnets in our technology. This program features demonstrations of magnetic lines of force, interactions of various magnets, powerful permanent and electromagnets, and magnetic levitation.
Pollinators
Length: 1 hour
Ages: 6 to 10
Why do plants grow flowers and why do some animals pollinate them? Learn about many species that help flowers communicate and the special role of insects. This program features bee waggle dance lessons, a butterfly raising activity, and giant flower models.
Natural Resources
Length: 1 hour
Ages: 7 to 13
What is a natural resource? Learn about the earth's natural resources and what we can do to conserve them. This program provides an in-depth look at natural resources like energy, clean air, fresh water, and forests. See the surprising ways in which these resources are connected and depend on one another. This program features demonstrations of energy, cloud formation, a flood table, and an illustration of how little fresh water is available.
Creative Solutions for Environmental Challenges
Length: 1 hour
Ages: 12 and up
Learn about how we can help solve many of our biggest environmental challenges with creative thinking. This program looks at surprising ways we can make clean power, and store it without batteries, how land use decisions can mitigate flooding, and how we can fight invasive species and eat sustainably at the same time.
Spooky Science
Length: 1 hour
Ages: 6 to 13
Halloween seasonal themed science demonstrations. This program uses fun Halloween items to teach about chemical and physical changes. Experiments include poprocks and soda, baking soda and vinegar, warm and cold glow sticks, and wint-o-green mints.