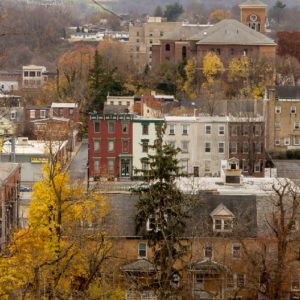 Energy consumed in residential buildings accounts for 45% of the City of Easton's total GHG emissions. Improving the efficiency of our residential building stock will contribute significantly to achieving City of Easton's greenhouse gas reduction target, while saving residents money on utility bills and reducing the need for new infrastructure.
Support retrofits and energy efficiency measures in existing residential buildings and homes

Expand existing home energy efficiency programs, providing free materials or kits targeting lower incomes.
Establish a program for replacing appliances and systems with high efficiency electric options. Partner with utilities to expand existing rebate options.
Provide incentives for rental property owners to increase energy efficiency of their properties tied to rental license renewal.
Educate homeowners about home comfort and cost-savings of energy efficiency measures.

Ensure new residential buildings and homes are built to maximize energy efficiency

Encourage or consider requiring use of net-zero emissions building standards like LEED for new construction.
Review and update building codes to promote increased efficiency and reduced emissions.