Colleges and universities are, in many ways, especially well situated to make large strides toward sustainability. They encompass many activities that are potential targets of sustainability efforts, from residence halls to vehicle fleets to food services to new construction. They also have professors and experts to help brainstorm and plan sustainability measures and students eager to play a role in implementation. In ideal situations, colleges and universities not only leverage these resources to make their own operations more sustainable, but also support such efforts in their surrounding community and prepare students to continue that work when they graduate. Even with the benefits colleges and universities have in addressing sustainability, it takes a concentrated effort from many folks within those institutions to successfully make sustainability part of the identity of the school. At Lafayette College, the Office of Sustainability has strived to do just that since its founding in the fall of 2017, acting in four focus areas: sustainability in operations, enhanced teaching and learning, campus as a living laboratory, and student leadership and leadership opportunities. I spoke with Lafayette's Sustainability Director Delicia Nahman, Assistant Director of Food and Farm Lisa Miskelly, Sustainability Fellow Kendall Roberson, and Campus Energy Manager Nick DeSalvo about the impressive range of programs their office has worked with students, faculty, and staff to create and implement.
Delicia describes that all 4 staff members act as liaisons between the Office of Sustainability and Lafayette's academic community. It's clear that one of their goals is to not only support the college in adding sustainability efforts to its normal operations, but to help make sustainability an integrated part of all aspects of Lafayette. A wonderful example of this is that many faculty members address sustainability into their courses, often building in hands-on experiences with community projects. This is "a distinctive part of the experience here at Lafayette," Kendall says, and it makes students more likely to build a relationship with the Easton community rather than viewing themselves as visitors for just 4 years. At Nurture Nature Center, for example, we have previously worked with Lafayette professors and their classes to develop a Hazard Vulnerability Assessment and to study greenhouse gas reduction targets and strategies for the city of Easton. Partnerships like this can be very mutually beneficial, as students are eager to get real-world experience related to what they are learning in the classroom and their efforts contribute to important projects in the community.
Students also get involved with the Office of Sustainability by joining EcoReps, who Kendall describes as student ambassadors serving as "the boots on the ground for the office to understand where students might be struggling with sustainability" and the types of programs that would be helpful. These students from all years and a variety of majors conduct peer to peer education, host sustainability-related events, encourage recycling on campus, and help with the composting program. Other students may join one of the numerous student organizations or the committee on student government that are committed to sustainability. Each has a unique focus area, but their work often overlaps and they work together frequently, Kendall says. Through these organizations and the Landis Center for Community Engagement students connect to sustainability projects beyond Lafayette's campus as well – they participate in tree plantings, community cleanups, and other events. Students approach sustainability with a lot of passion and energy, and the Office of Sustainability helps ensure that they have ways to translate that energy into meaningful individual, college-wide, and community action.
In addition to student efforts, the office facilitates Lafayette's sustainability efforts on an institutional level as well. As the only college or university in the Lehigh Valley to have signed on to the American College and University Presidents Climate Commitment, their Climate Action Plan aims to have the college reach carbon neutrality by 2035. Lafayette's Climate Action Plan and the resulting projects were really motivated by "a community initiative," Nick says. "It was due to a lot of advocacy and outreach by faculty and students to the administration," Delicia adds, "and it really did take a president who understood the importance of this as a priority, and a board that understood why it is important that Lafayette is one of the leaders in higher education calling for carbon neutrality." To that end, they joined Lehigh University, Muhlenberg College, and Dickinson College in a power purchase agreement to buy energy from a newly-constructed solar farm in Texas, adding new renewable energy capacity to the grid. On campus, they have installed all LED lights in Kirby Sports Center, improved energy efficiency in science buildings, which are notoriously big energy users, and made upgrades to mechanical equipment in residence halls to conserve energy. "As an educational institution, we focus on the importance of opportunities to engage students," Nick says, explaining the role students can play in these facilities projects. One student serves on a project team working to get solar panels installed on the roof of the Kirby Sports Center, which is an important learning experience on the behind-the-scenes work that goes into renewable energy projects. In addition, once the project is completed, faculty will be able to incorporate that solar array into classrooms, using data on energy generation in their lessons, for example.
Another initiative that presents many opportunities for both environmental benefit and enhanced academic experience is LaFarm. This 3 acre working farm and community garden produces over 6000 pounds of food per year with the support of student employees, student clubs, Greek organizations, and athletic teams. "There are teams of students at the farm just about every Saturday and Sunday through the spring and fall," says Lisa.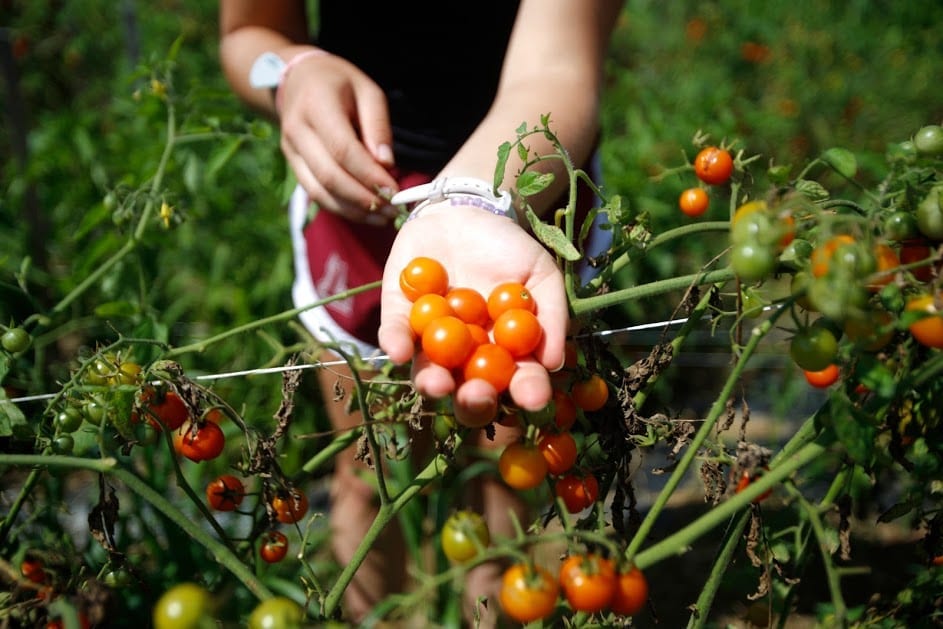 The food is sold to on-campus dining halls, sold at an on-campus market, used to make LaFarm's own salsa and tomato sauce, or distributed through the Vegetables in Community stand, which runs for 11 weeks from July to September and also distributes food from the Crayola community garden and Easton Urban Farm. In addition to food, LaFarm provides students with unique learning experiences. Multiple courses, including first year student seminars, a nature writing course, and engineering courses all bring students to the farm to study everything from pollinators to plant biology to agricultural techniques and technologies. Faculty also undertake special projects with their classes and student clubs, which include designing a solar powered vegetable wash-pack and irrigation system and converting a tractor to electric. "Food is an accessible entry point into sustainability for students," says Lisa. "It is this medium through which students can see the impact they can have beyond their own personal lives." Working at LaFarm is a great example of the types of experiences the Office of Sustainability creates – it allows students to engage in meaningful real-world work while laying the building blocks for them to continue to be engaged in sustainability for the rest of their lives, no matter what career they choose.
In this way, the work of Layette's Office of Sustainability creates positive ripple effects from the students and faculty they interact with out to the Lehigh Valley community and eventually the communities in which students will go on to live and work. The office has accomplished a great deal in just a few short years since its founding, in no small part due to the enthusiasm and support for sustainability from students, staff, faculty, administration, and community partners. This serves as a model for other institutions of higher education looking for ways to integrate sustainability into their activities and creates powerful opportunities for partnership between Lafayette and the surrounding community. Sustainability can't be accomplished by one actor alone but requires a variety of coordinated efforts. Lafayette's Office of Sustainability is a valuable part of the sustainability landscape in Easton and the Lehigh Valley.