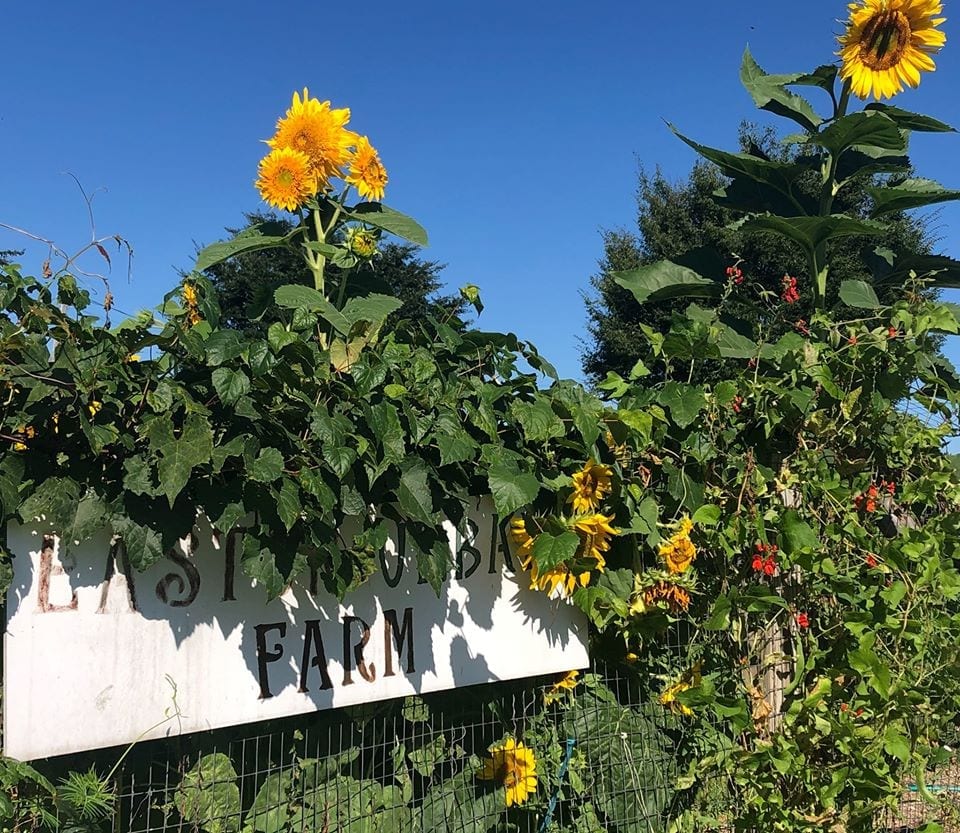 Last year, just over half an acre of land in Easton produced 6500 pounds of food through almost entirely volunteer efforts. That land is the Easton Urban Farm, a project of the Easton Area Neighborhood Center that has become a critical piece of the community gardening and local food production landscape in the city. I spoke with Ross Marcus, Executive Director of The Neighborhood Center, about the growth of the Farm and the impacts it has on the community.
While it can seem like urban gardening or farming is a newly emerging sustainability trend, Ross describes the long history of The Neighborhood Center with community gardening in Easton. They started with a typical community garden model where individuals or families are assigned a plot that they tend individually and harvest the produce from, which evolved into the idea of a congregate site with more communal work around 2010. After significant prep work, the Urban Farm opened in 2012. "All of the community comes together to care for the farm and partake in produce that comes out of it," Ross says. This includes individuals who volunteer on a regular basis, a healthy living class from St. Luke's University Health Network that spends a morning on the farm before preparing a nutritious meal with the food they harvest, local alumni associations, special needs groups, church congregations, and many others. Bringing all of these people together over the shared task of growing fruits and vegetables also helps to "establish the farm and The Neighborhood Center as a gathering place," says Ross. There is one paid Neighborhood Center staff person assigned to the farm's operation (a Master Gardener who uses his expertise to plan crops and troubleshoot any issues that may emerge on the farm) and volunteers do the rest of the work to produce tons of food.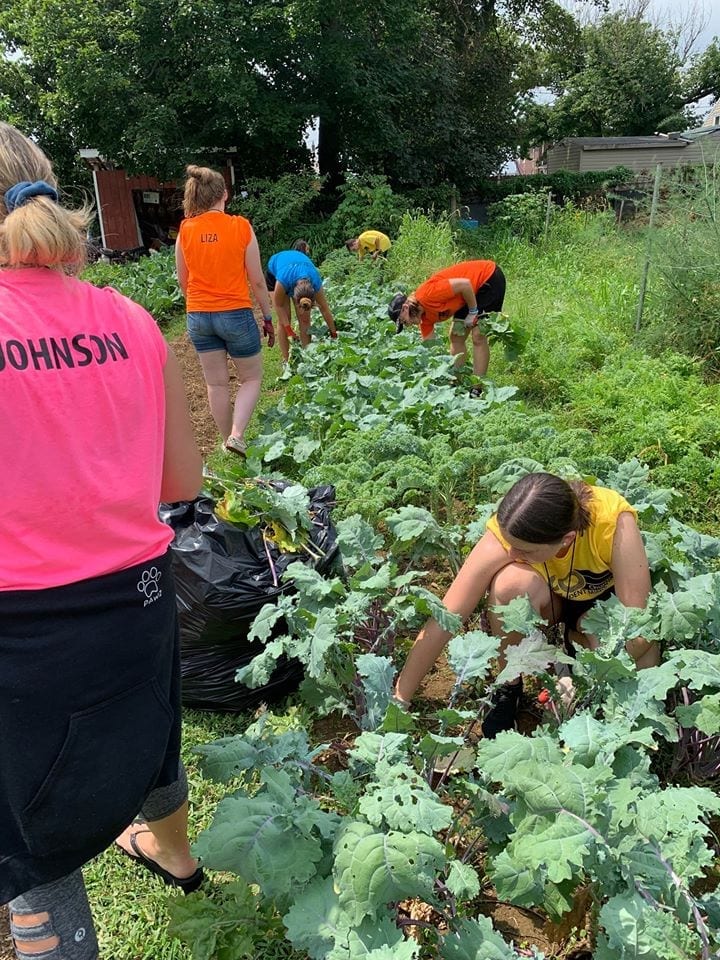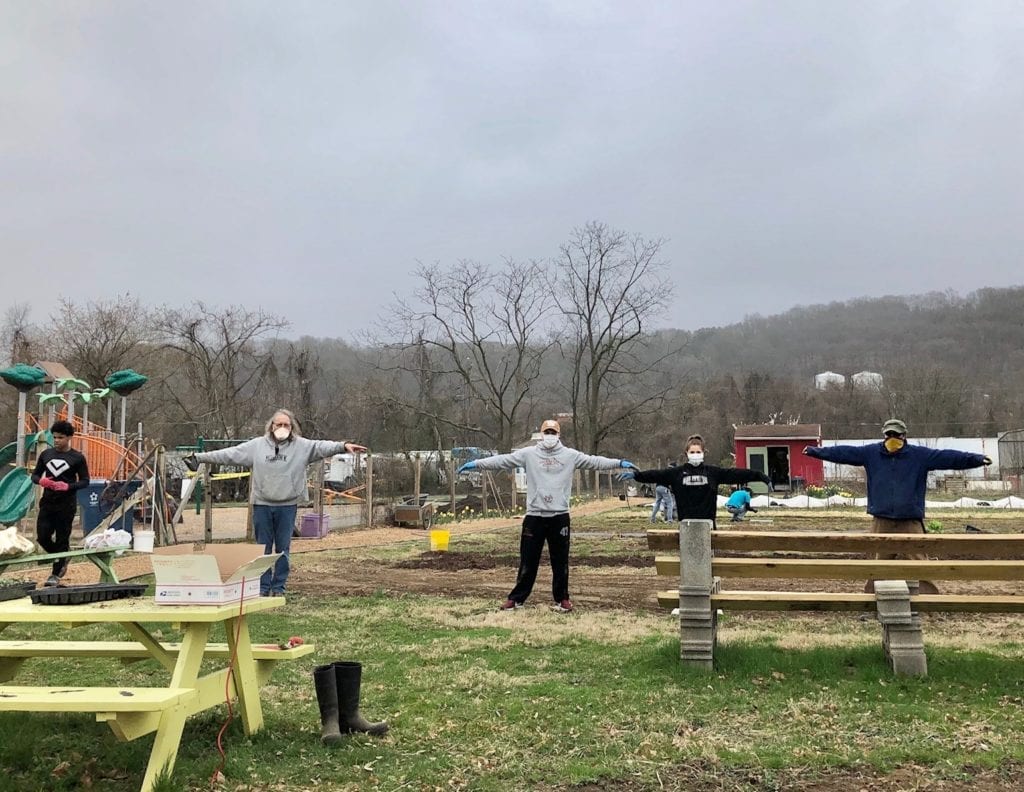 Volunteers are at the heart of the Urban Farm. On the left is a typical scene of volunteers working on the Farm in previous seasons, while social distancing measures that are necessary this year can be seen at right. (Photo credit: Easton Urban Farm/The Neighborhood Center)
Half of that food stays with The Neighborhood Center for distribution through their food pantry, which serves 125 families a month. The other half goes to Vegetables In the Community (VIC), a Lafayette College project in the West Ward that operates a food distribution stand for produce not only from the Urban Farm but also Lafayette's LaFarm, the employee-run garden on Crayola's Forks campus, and other community gardens. Both the food pantry and VIC increase access to fresh nutritious foods for local residents, which improves public health, reduces the environmental impact of our diets, and provides support for low-income families.
Tomatoes and cucumbers aren't all people take away from visits to the Urban Farm. "Volunteers learn gardening techniques they can apply in their own lives, but also how to prepare food, and what types of produce to focus on," explained Ross. "The whole idea is not just to help out with the farm but learn good gardening practices and take them to their home or a community garden. It gives people the bug to go home and try gardening. It doesn't matter how much land you have – start with a bucket garden!" These practices include gardening without chemicals, considering which plants grow well together, and knowing what to plant based on our region. Even just a day on the Urban Farm gives volunteers a healthy perspective on some of what farmers experience on a day to day basis and spurs consideration of where our food comes from. "We all get caught up in our day to day lives and don't think about where our clothes, home products, etc. come from, and I think the same is true of food," says Ross. "Hopefully the Urban Farm plays a small role in reestablishing that connection." Ross describes how he, like many people, is in the habit of making a grocery list, going to the store, getting the things on the list, and getting back home. There's usually not time to explore, as we are often in a rush, so we just get the items we're used to. "There's no time to stop and think about what other produce would be good for me to eat, what would be healthy?" he says. Eating a fresh red pepper or adding just-picked radishes to a salad can introduce new food into our diets and enrich our experiences around food. Ross hopes that reconnecting with where our produce comes from is one way of slowing down and thinking more fully about what we are eating.
As they bring about better relationships with food and better relationships within the community, the Urban Farm and the other local food growing efforts in Easton are great ways to get involved for people who care about making a difference, learning new skills, and joining a network of other engaged, community-minded citizens. "All of this is about partnerships," Ross says, describing how the Master Gardener on The Neighborhood Center's master gardener interacts with his counterpart at the Greater Easton Development Partnership, another Master Gardener at Lafayette's LaFarm, and the staff at the Boys and Girls Club as they build their new community garden. If you're interested in joining the fun, the Urban Farm is always looking for more volunteers! "When you finish a day of volunteering at the farm, you're tired," says Ross, "but it's a good tired!" Many opportunities  to get involved will be dependent on the ongoing COVID-19 situation, but if you are interested reach out to Ross Marcus for up-to-date information at 610-253-4253 or at rmarcus@eastonanc.org.
For a list of community gardens in Easton see: https://gardenofeaston.org/community-garden/