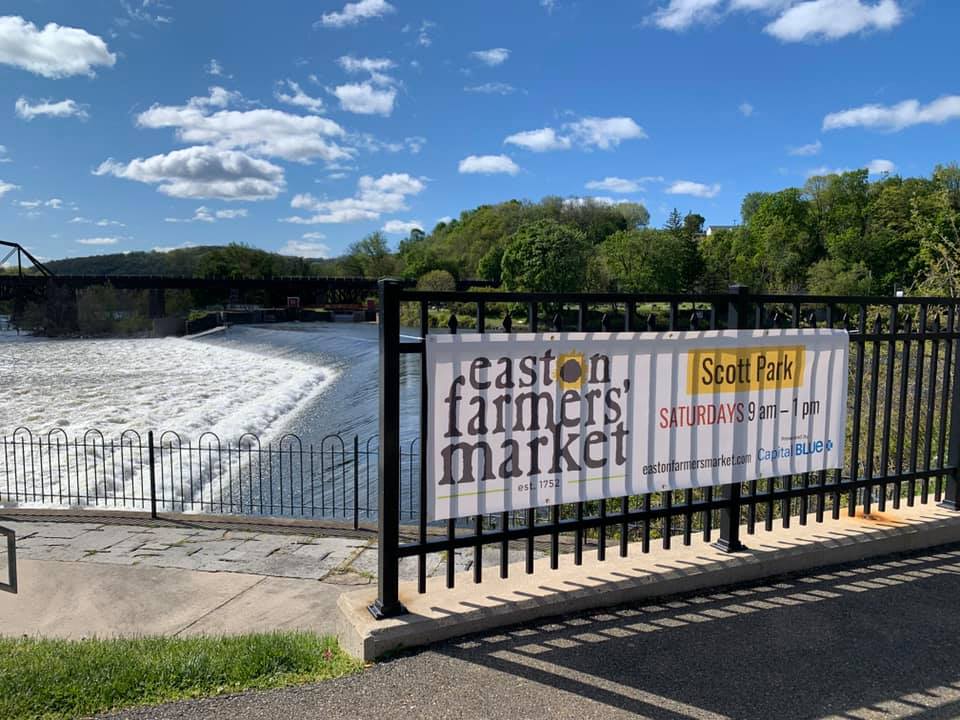 Many know Easton Farmers' Market as the oldest continuous open-air market in the nation. In addition to that distinction, it serves an important role as a direct connection between farmers and consumers, strengthens Easton's downtown, increases access to fresh local food, educates market visitors about seasonal and healthy eating, and builds community. Megan McBride is the Easton Market District Director, responsible for both the Farmers' Market and the Easton Public Market. In 2006 she saw the Farmers' Market, at the time small and struggling, as a potential economic driver for businesses downtown and as a connector, "and it really has become that," she says. The market now links farmers to local restaurants and to community members, with roughly 35 vendors, programs for children, and live music drawing not only Easton residents but visitors from over a 30 mile radius as well.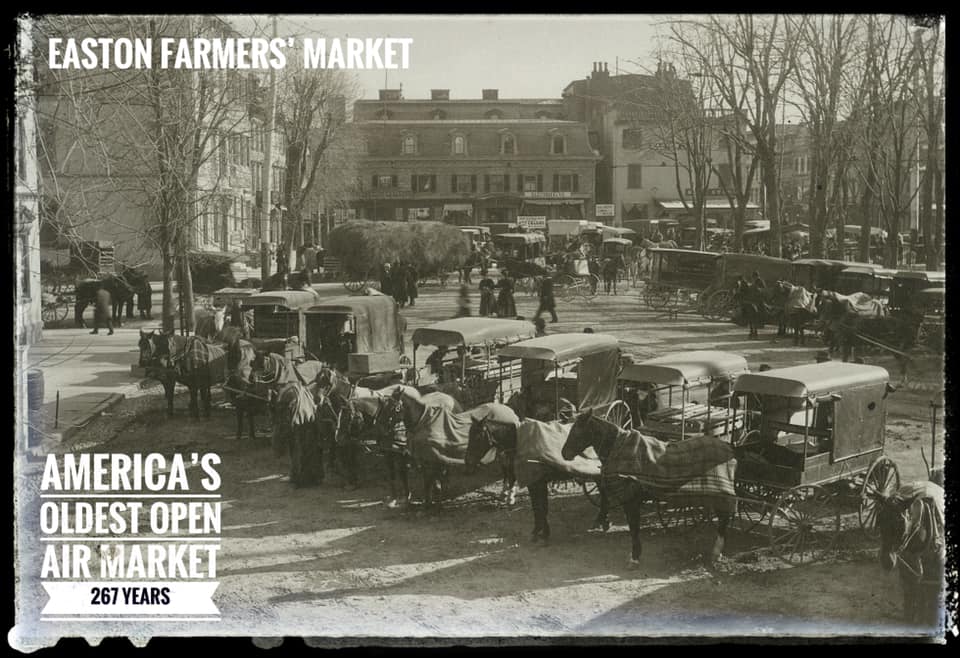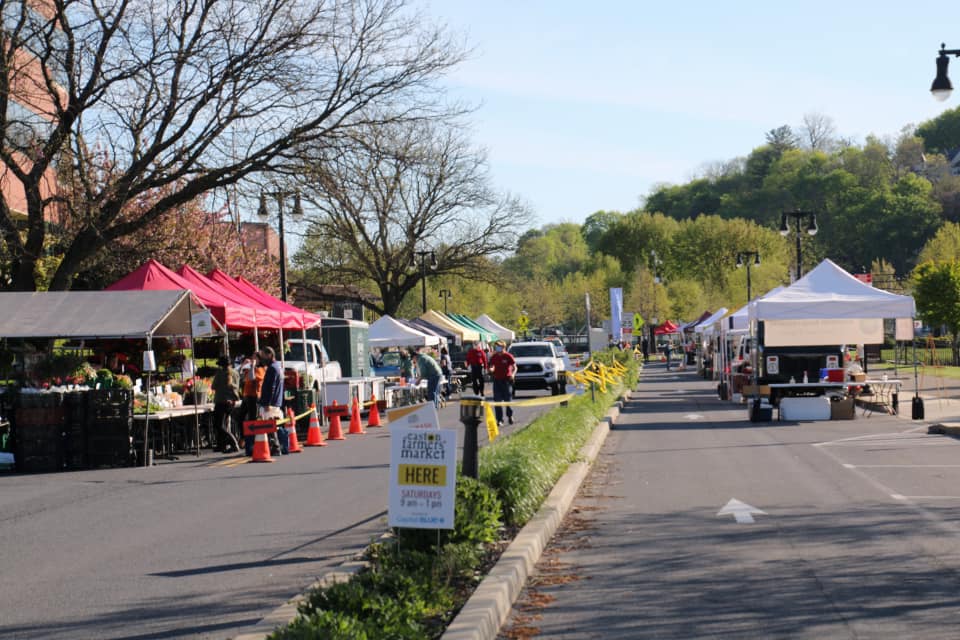 The Easton Farmers' Market was established in 1752, making it the oldest continuous open-air market in the United States. 
The Farmers' Market's role as a connector strengthens the local food system, benefiting both producers and the people who buy their food. "Farmers' markets are so integral," Megan emphasizes, "People don't realize the margins farmers get selling to grocery stores, which are very thin compared to selling directly to the consumer. There's so much to feel good about when purchasing from a local farmer." The EFM is rather unique in that it also strives to connect growers to restaurants and wholesale markets, and its normal location in Centre Square facilitates sales to chefs in downtown restaurants and to Lafayette College. The Farmers' Market also has a strong connection with the Highmark Farmstand at Easton Public Market, which strives to offer EFM farmers and producers an opportunity to wholesale their products and build their brands by selling year round at the Farmstand. In addition to being practical for farmers, farmers' markets play an important educational and relationship building role, allowing people to meet and get to know their local growers and ask questions about the food they are getting. They can also provide peace of mind that food is healthy and safe, as EFM vets each vendor before they begin selling their products. "Transparency is key," says Megan, which means everything is clearly labeled, such as whether fruits and vegetables are grown organically or without chemicals, so people can make informed decisions about their food.
At the other end of the food system, Megan also works with the residential composting program, founded 2 years ago, which allows people to discard their food scraps at the designated site behind the Public Market and then works with American Biosoils to transport and compost the waste back into a useable material. The program has been even more successful than expected, collecting over 80,000 pounds of food waste since its inception, and Megan and her team are looking into ways of expanding it, potentially starting their own compost site with the City of Easton rather than paying to have the food scraps transported and composted by another party.
Another part of a strong food system is making sure fresh local food is available to everyone, so EFM was one of the first markets in the state to accept Electronic Benefit Transfer (EBT) market-wide and has partnered with Buy Fresh Buy Local of the Greater Lehigh Valley to incentivize use of Supplemental Nutrition Assistance Program (SNAP) benefits. EBT purchases of up to $10 are equally matched by BFBL-GLV with Lehigh Valley Fresh Food Bucks, which can be spent on fruits and vegetables.
The Farmers' Market also offers many activities free to the public, including its Power of Produce (POP) program for children, which provides nutrition and sustainability related activities. "It's important to start teaching kids early on about eating seasonally and buying local fresh foods," says Megan. Kids can earn "POP bucks" through participation in the program which are redeemable throughout the market. Last year participation in the program shot up 400% over the previous year, which has the added benefit of bringing parents into the market each week with their children. Farmers' market programming is connected whenever possible to other Greater Easton Development Partnership (parent organization of the Farmers' Market) and community programs, such as Easton Garden Works and the Main Street Initiative. Megan says she views these efforts as "a continuous loop," where one project can reinforce and strengthen another. For example, last year the Farmers' Market worked with the West Ward Neighborhood Initiative and Lafayette College's Vegetables in the Community stand to serve a locally produced dish, provide an activity for children, and distribute market vouchers while families came to get fresh produce.
"It's a labor of love for me for sure," says Megan "and it has brought the community together in so many ways. Our success is 100% based on grassroots efforts and engagement with the community, and our volunteers are a huge part of that." The Farmers' Market has over 50 volunteers who do a variety of tasks from setting up the market at 6:30 am to helping to manage activities, and they are always looking for new folks to join them. If you're interested in getting involved, please contact Megan at megan@eastonpartnership.org for more information. Though children's programs and live music are currently on hold due to COVID-19 safety precautions, the Farmers' Market remains open Saturdays 9am-1pm in Scott Park along the river (128 Larry Holmes Drive), with the first hour reserved for shoppers age 65 and older and those with underlying medical conditions. They offer free parking just a short walk away from the park.  While the market currently has a very different feel than normal, it continues to provide an important and reliable source of fresh local food. As for sunny summer mornings with groups of people milling about, children playing, and the community gathering together, "we'll get back to that again," Megan is sure.
Note: Nurture Nature Center is the parent company of Buy Fresh Buy Local of the Greater Lehigh Valley. For more information on their work to strengthen the local food system and access to fresh food, visit their website at http://www.buylocalglv.org/