On a blustery autumn day, you might notice an old window that rattles in the breeze, a certain room of the house that always feels cold, or a draft coming in under a door. Ensuring that your house keeps out the elements not only makes it a more comfortable place to live, but also improves energy efficiency, reducing both your carbon footprint and electricity or heating fuel costs. For many, the initial investments required to improve insulation, weatherstrip doors and windows, install programmable thermostats, or upgrade heating systems or other household appliances are barriers to achieving these benefits. Community Action Committee of the Lehigh Valley (CACLV) runs a weatherization program that makes these improvements to the homes of households below certain income thresholds, helping to ensure everyone has a warm and safe place to live, reducing heating and cooling costs, and cutting greenhouse gas emissions. Since the program started in the mid-1980s, about 25,000 homes throughout the Lehigh Valley have been weatherized.
Mike Austin, who directs the program, says the goal for each home they work with is about a 20% reduction in the amount of air that moves through the house, which corresponds to about a 20% energy savings. CACLV achieves this through funding from local utilities – FirstEnergy, PPL, and UGI – and from the state Department of Energy's WAP (Weatherization Assistance Program) & LIHEAP (Low Income Home Energy Assistance Program). The process begins when a resident is connected with CACLV, either because they are already participating in an assistance program for their utility bills, or if they apply to the program (information on how to apply can be found on CACLV's website here). For the utility funded programs, CACLV administers jobs through a pool of subcontractors. "Our subcontractors are trained at Pennsylvania College of Technology in Williamsport, where they have a great program for weatherization," Mike says. For Department of Energy funded programs, CACLV's highly  trained energy auditors complete an in depth inspection at the home to write up work orders for contractors who complete the weatherization, and CACLV revisits the home to inspect the work after it is done. While CACLV does outreach to reach people who are on utilities' assistance programs, Mike says it can be difficult to get the word out about weatherization opportunities. "People are skeptical of solicitation calls," he says, "so as soon as they hear 'I'm from CACLV calling about weatherizing your home' they hang up." CACLV staff call each potential participant twice and send them a letter to try to inform them about the benefits of the program.
Once someone does request weatherization for their home, it's time to assess what that particular home needs to improve energy efficiency. The initial visit to a home also ensures that there aren't any serious issues like mold that need to be fixed before weatherization. "It's a little like getting a free home inspection," Mike says. "Our first priority is the health and safety of the occupants.  This is why we test the gas or oil fired heating system and water heater of each home we work on to ensure they are functioning to industry standards and will work properly after the home is air sealed. Our funding allows us to address issues that we identify during our testing. We also use electronic gas leak detectors to check all exposed gas lines and get a licensed heating contractor to repair any leaks we find."
He explains that a primary tool they use is a blower door test, which measures the amount of air traveling through the home. The blower door covers the doorway and has a fan and a pressure gauge in it, which compares the pressure differences inside and outside the home. Once issues are identified, weatherization includes air sealing, adding insulation, weatherstripping, caulking, repairing doors and windows, installing bath and kitchen exhaust fans and more. "We find our biggest energy savings come from air-sealing the house, then insulating," Mike says. He also mentions that providing energy education and sharing information with the residents about their home and how to identify future problems is an important step – especially because once air-sealed, a house can more easily develop mold without proper use of bath and kitchen exhaust fans. "We talk about how to keep their house healthy," Mike says. CACLV employees can also point weatherization clients to other services and resources the organization offers that might be helpful to them – weatherization is one piece of the organization's mission to improve quality of life, and may be the point of contact for a resident to learn about a food bank or financial services program they could benefit from as well.
Helping connect people to support and community resources has become especially important due to the social and economic challenges brought on by the COVID-19 pandemic. While weatherization jobs were paused in March when things first shut down, the program also responds to crisis situations involving inoperable heating systems during cold weather, which continued as an essential service. CACLV received additional funding for this program through a CARES grant, which allowed them to begin administering the LIHEAP crisis program during the summer, reaching additional households that knew they would have issues with their heating systems come cold weather. They've also taken steps to keep their employees and program participants safe, with auditors and contractors donning PPE and receiving training for when they go into people's homes. The program is essential because as a society we don't want people to suffer through freezing temperatures in the winter just because they can't afford to weatherize and/or heat their home. In addition to this social benefit, it contributes to the economic and environmental pieces of sustainability as well. Economically, by enabling people to make a larger initial investment in weatherization, it saves them money over time that would otherwise be spent on wasted heat that escapes outside, and the savings can then be spent elsewhere in the community. Environmentally, by making homes more efficient, the same level of comfort can be achieved with less energy and therefore less greenhouse gas emissions from electricity generation or burning natural gas/fuel oil.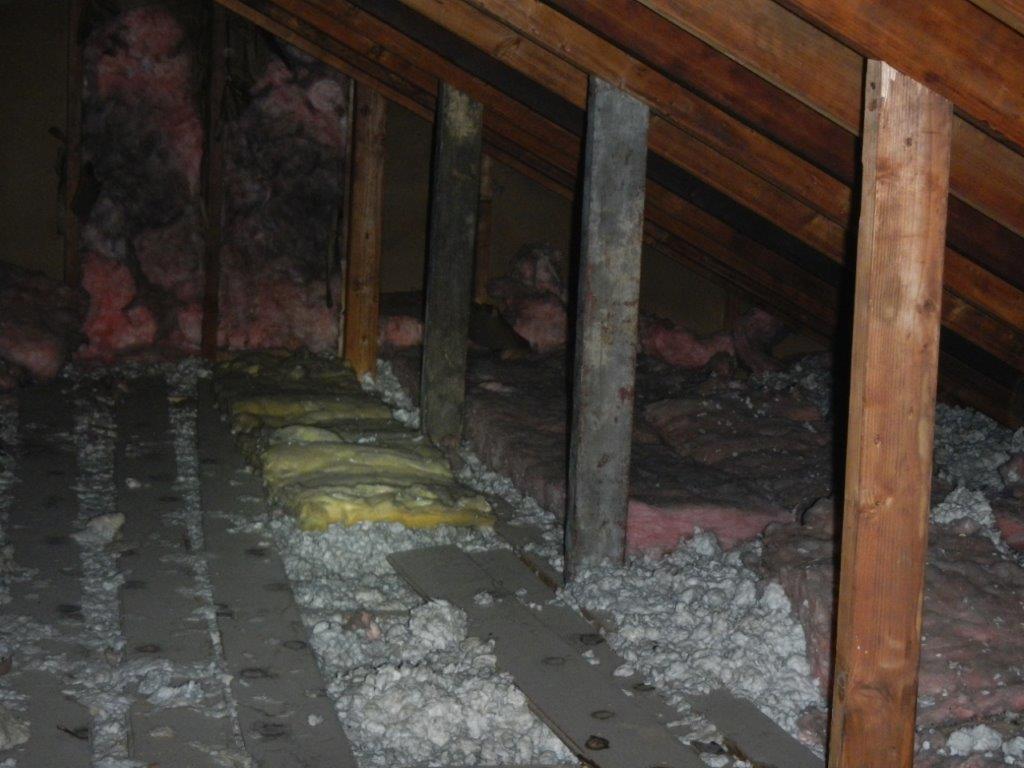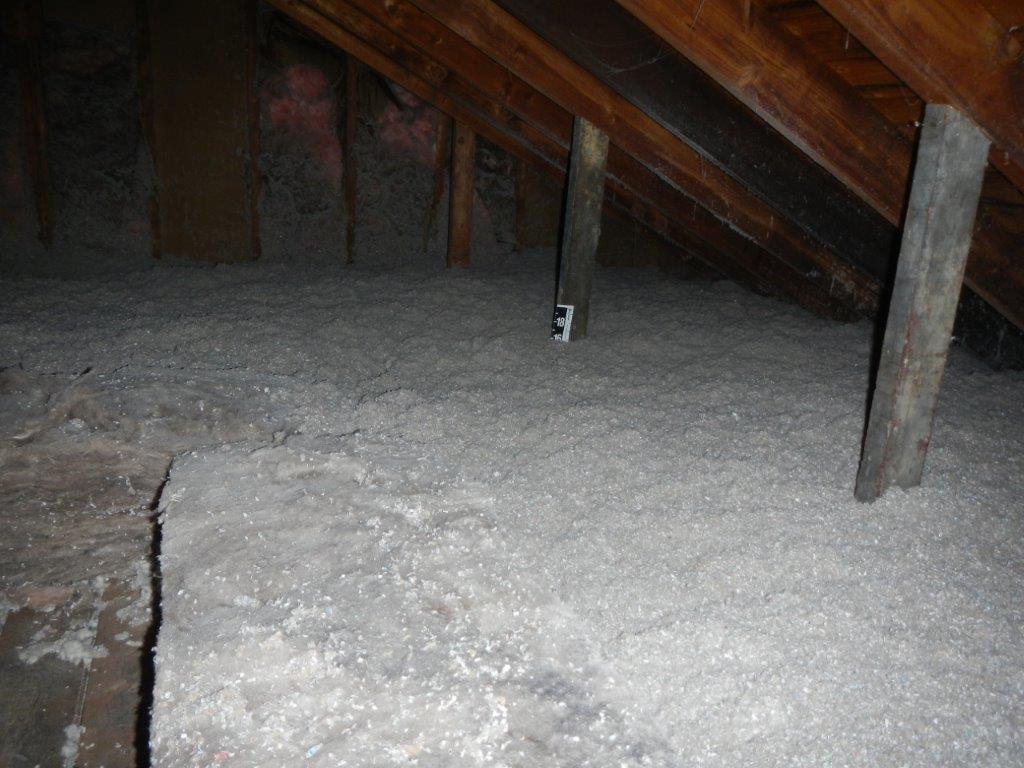 An attic space before and after insulation. Photos: Mike Austin/CACLV
If you don't qualify for a weatherization assistance program but are still interested in pursuing some of the benefits of energy efficiency, there are many resources on how to reduce your energy use and make sure your home is well insulated and sealed off from the outside. The Department of Energy provides an overview here.  Energy Star appliances, LED light bulbs, and programmable thermostats are all well-known options for saving on energy as well. As the days get shorter, we turn the lights on earlier, and as the weather gets colder, we turn on the heat, making the benefits of improved energy efficiency become even more noticeable. CACLV's weatherization program helps to make sure everyone can take simple measures like insulating their homes to have a safe, comfortable place to live.