Working at a place like Nurture Nature Center, it really does feel like Earth Day every day. Still, many of us will take an extra moment today in particular, on April 22, to appreciate our environment, do our part to care for the planet, and celebrate with others who share our love for the Earth. We invite you to join us – what are your plans for this Earth Day? Here are just some of ours: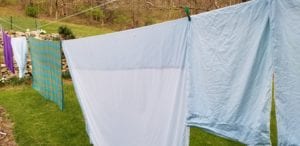 "I like to hang large or heavy wash outside instead of having the dryer run forever to dry them.  In the winter I hang wash on a line in the basement. It takes longer to dry but it does the job without using electricity or, in my case, LP gas.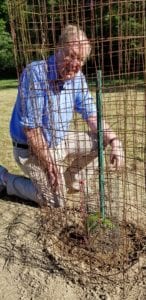 The second photo is of Roger who will on Earth Day, I'm sure, be tending to his five American chestnut seedlings that he is nurturing in the hopes he will soon get two seedlings that have been genetically modified to resist the chestnut disease and that cross pollination will, it is hoped, assure all the trees mature.  We may not be around in 15 or 20 years when this cross pollination happens, but it is hoped that whoever lives on this property then will continue the nurturing of these trees."
– Liesel Dreisbach-Williams, Program Coordinator
"Here are 2 photos of me in the garden which is where I will be, of course. I'm finally cutting back my summer phlox, but not too much. I like to leave sticks coming up through the foliage, so the deer won't find it too pleasant to eat. In the second photo I'm holding a flat of Ruby Sky lettuce, which I hope to get in the ground later this week."
– Pam Ruch, Garden Director
"For Earth Day we will be playing outside in dirt and grass and loving nature."
– Kate Semmens, Science Director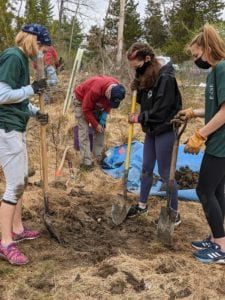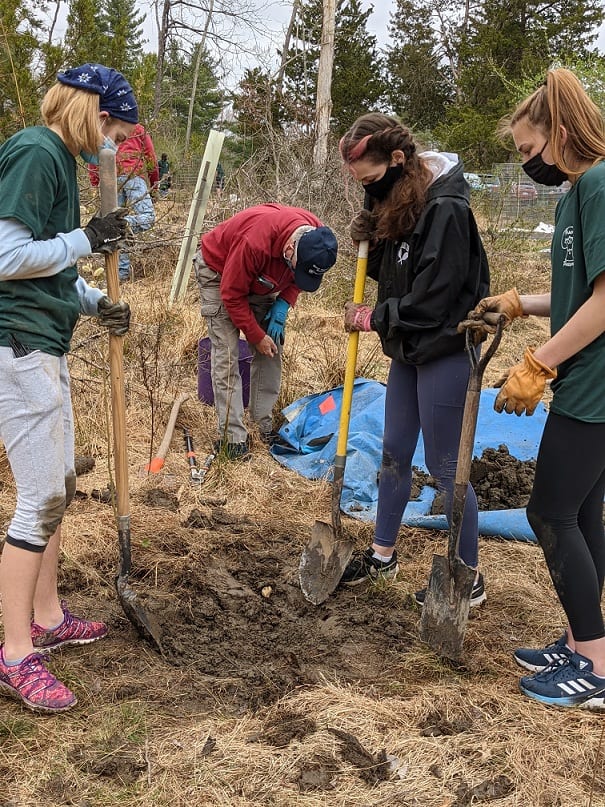 "This Earth Day I'll get to meet with the Palisades High School STEM Club to discuss our recent tree planting at Nockamixon State Park. Working with students who understand the importance of the environment and want to live more sustainably and in harmony with the natural world gives me hope for future Earth Days."
– Lauren Fosbenner, Project Assistant
Outreach Educator Jeff Mucklin will be participating in a stream bank and trail cleanup at Hugh Moore Park in celebration of Earth Day.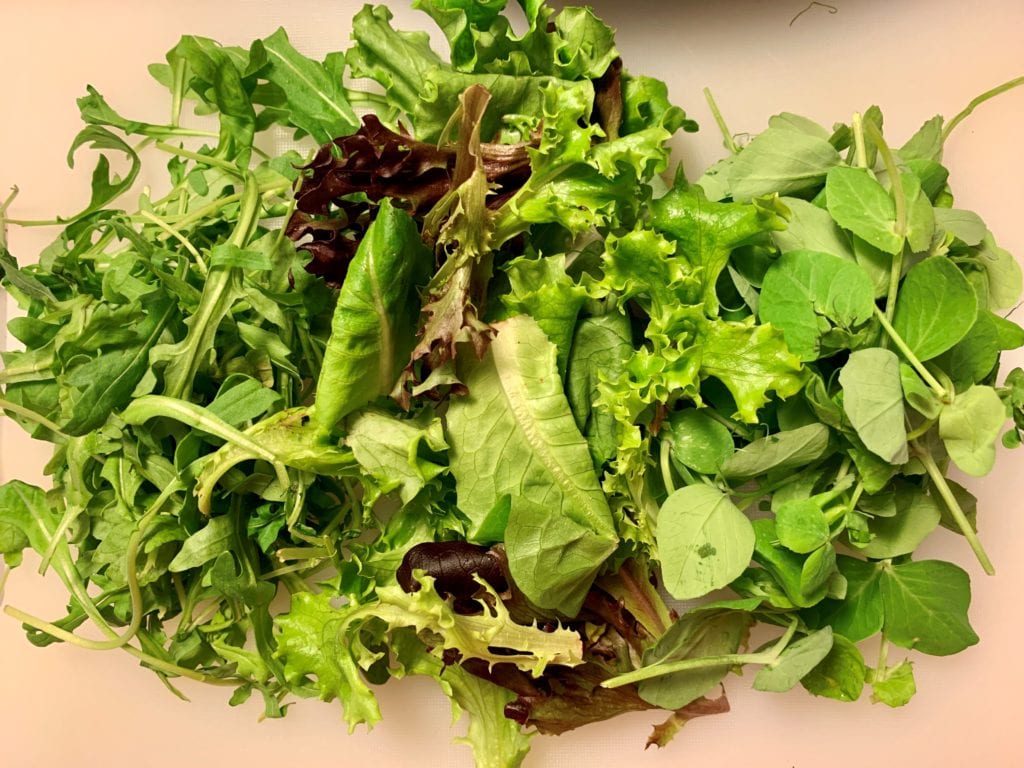 "For Earth Day 2021 I'll be eating green! I love big mixed green salads in the springtime! These greens (L to R arugula, lettuce mix, pea shoots!) are from Crooked Row Farm, a certified organic farm in New Tripoli/Orefield. You can learn more about how supporting local farms helps support our environment here: http://www.buylocalglv.org/why-buy-local/environment/. Or, use our Local Food Finder to see where you can purchase fresh and delicious local foods near you!"
– Allison Czapp, Director of Buy Fresh Buy Local of the Greater Lehigh Valley
"On Earth Day, I will be planning and organizing with the Saucon Creek Watershed Association for the summer ahead. It's my 15th year of volunteering with this great group of people."
– Keri Maxfield, Art Director
"I will fly my "Earth from Space" flag.  I will go to a wooded path where I will walk slowly, mindfully to appreciate the miracle on which I am walking."
– John Cosgrove, Docent
We hope you'll take some of these ideas for "nurturing nature" and make them your own, and share your Earth Day celebrations with us! Happy Earth Day from the Nurture Nature Center.