Last spring and summer, there were many reports of increased use of trails, state and local parks, and other outdoor assets as people sought out activities that were safe during a pandemic. Beyond the fact that they were among the only recreation sites open at some points in the last 9 months, there is good reason why people have sought out time in the outdoors during such a trying and stressful year. Exposure to nature is associated with a plethora of mental and physical health benefits, ranging from reduced stress to healthier body weight to better mood. For children, playing outside can reduce the likelihood of being near-sighted, enhance empathy, lengthen attention spans, and promote critical thinking skills. Although we can benefit from these effects of being outside year round, oftentimes we find ourselves staying inside as temperatures drop and snow covers walking paths or play areas. However, with a little preparation for the weather, you can head into nature any time of year, and even find some unique activities that are best experienced during winter.
Just as shorts and tank tops make being outside in warm weather more enjoyable, dressing appropriately for the cold will help keep you comfortable and safe while outdoors. As the image below shows, one of the keys to staying warm is layering clothing. Multiple thinner layers rather than one thick layer will keep you warmer because they can trap a thin pocket of warm air near your body between each layer. In addition, wearing layers allows you to choose a material that will wick moisture away from your body for a base layer and a material that is wind and waterproof for an outer layer.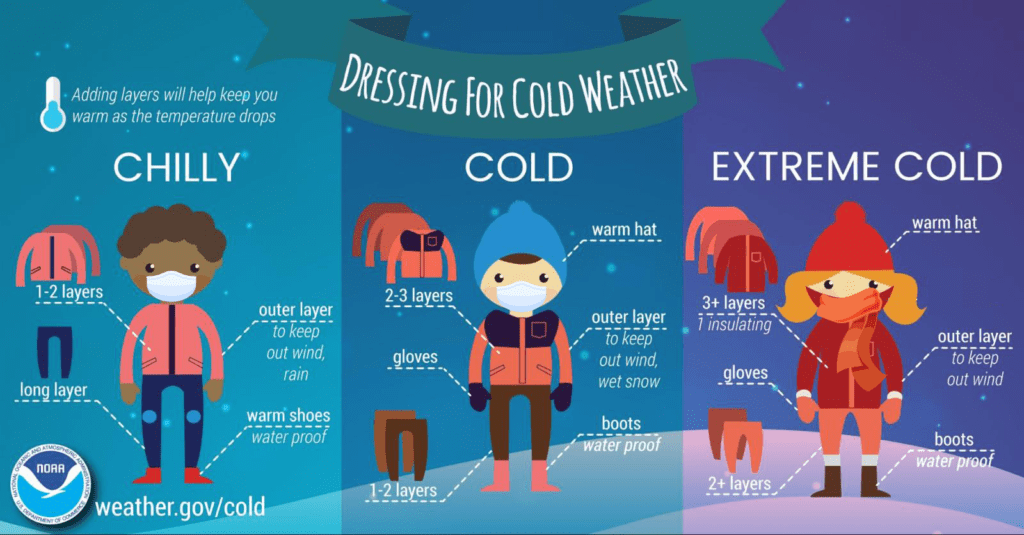 In addition to layering clothing; ensuring your feet stay dry; and wearing a hat, gloves, and scarf depending on just how cold it is, it's advisable to apply sunscreen to your face before heading out. You can still get sunburn when it's cold, especially if there's snow, because the sunlight will reflect off of it. Finally, be mindful of how long you will be outside – especially with children, it may be necessary to limit the duration of outdoor time if conditions are especially cold or windy. Multiple 20-30 minute blocks spent outside over the course of a day give kids a chance to warm up, unlike one extended period in the cold.
So now you're dressed appropriately. Where should you go? What should you do? Many popular winter activities such as ice skating, skiing or snowboarding, or ice fishing are available in the Lehigh Valley. And of course, after a snowstorm, sledding, building snowmen, or having snowball fights often draw families outside. If you're looking for some new things to try outdoors, this Penn State Extension article suggests a variety of child-friendly activities, ranging from the "Snow Pile Olympics" to a snow maze. These games are a lot of fun when there is snow on the ground. If that's not the case you can still try out homemade ice blocks, freezing water in milk cartons or plastic containers and then having kids build with them. Another idea is to embark on a "Let's find it" walk, starting with a list of 5 things and checking them off as you find them in a park or around your yard or neighborhood. Similarly, a winter nature hike (even if it's just a hike around the yard) can encourage children to identify signs of winter.
Other activities may interest adults or children alike. Putting up a bird feeder, even one as simple as a pinecone rolled in peanut butter and bird seed, can draw more wildlife to your yard, and bird watching is a great opportunity to learn more about the species that live near you. Looking for birds, other animals, or even signs of animals like tracks in the snow can also add excitement to a walk along one of the many trails in our area. We are lucky to live in a region with a wealth of natural space. In Jacobsburg State Park, you can borrow snowshoes when there is sufficient snowpack and go explore the park. The D&L Trail mentions on their social media that people try out cross-country skiing when snow falls on the trail. The D&L is also a great place for a winter walk if you're in search of some historic landmarks as well as nature – the trail's path follows some of the industrial history of the region, which, on the parts of the trail near Easton, includes informational boards and landmarks regarding the Lehigh Canal. Other nearby assets include the Karl Stirner Arts Trail, which is within walking distance from downtown Easton, and many county and local parks.
When you're curled up inside on a warm couch, it can be difficult to convince yourself to bundle up and head outside when the weather is brisk and cold. However, as many experienced in warmer months of the pandemic, there are many benefits to time spent in nature. Winter can be a challenging time for many to find ways of staying active and maintaining their physical health as well as a difficult time mentally and emotionally, with some people even experiencing depression or fatigue associated with seasonal affective disorder (SAD). Getting outside creates opportunities for fun forms of exercise, greater connection to nature, social interactions with others (from a safe distance), and learning new skills or knowledge about your local surroundings, benefitting both physical and mental health.