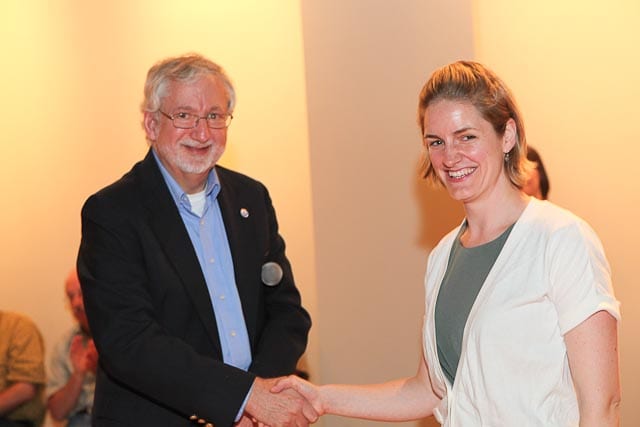 American Meteorological Society names NNC Director Rachel Hogan Carr the 2011 Distinguished Educator of the Year for Nonformal Science Education
On June 8, 2011, more than 70 people gathered in a ceremony to light the first exhibit in the new Nurture Nature Center at 518 Northampton Street and collectively gasped in awe as a six-foot suspended globe turned on and shone a beautiful image of Earth as seen from an astronaut's point of view.
The Science on a Sphere (SOS) exhibit – a dynamic, animated globe that is a noted tourist attraction and educational tool – is the first and centerpiece exhibit of the center, which will help educate the public about flooding and related environmental issues. Nurture Nature Center's SOS was installed by the National Oceanic and Atmospheric Administration in May 2011, and the exhibit will be open to the public for selected programming beginning in September 2011.
At the ceremony, NNC Director Rachel Hogan Carr was surprised with a prestigious national award presented by staff from the National Weather Service's Middle Atlantic River Forecast Center. The award, from the American Meterological Society, recognized Carr as the Distinguished Educator of the Year for 2011 for nonformal science education. Carr was recognized for her work developing a flood safety campaign with National Weather Service, the materials from which are available at www.focusonfloods.org. NWS staff nominated Carr and secured letters of support from various regional and national organizations and agencies, including National Weather Service, the United States Geological Survey, the Delaware River Basin Commission, and others.

NNC staff scientist Kate Brandes also provided an overview of some of the visualization capabilities of the sphere, which currently shows more than 225 programs about earth and space science, as well as other social topics, ranging from the path of the recent Japanese tsunami to the global network of Facebook friendships. SOS was developed by NOAA as a research tool, and quickly took off as an educational exhibit. SOS is now installed at 70 locations around the world, generally in large metropolitan areas, and all SOS locations are part of an open-source network that shares data and programs. Easton's SOS is the only one to serve the New York and Philadelphia regions, and is expected to be a major attraction to the new Nurture Nature Center. NNC received its sphere through a competitive grant application to NOAA, and learned from NOAA staff that its proposal was the top-ranked proposal in the nation. NNC will develop a new program for the sphere about the connection of climate and flooding; this program will be shared with all SOS sites internationally. Partners in this project include Maryland Science Center in Baltimore, MD; Da Vinci Science Center in Allentown, PA; Lehigh University; The Dartmouth Flood Observatory at the University of Colorado; NWS Middle Atlantic River Forecast Center; NWS Severe Storms Laboratory; and others.
More information about the exhibit can be found at sos.noaa.gov.