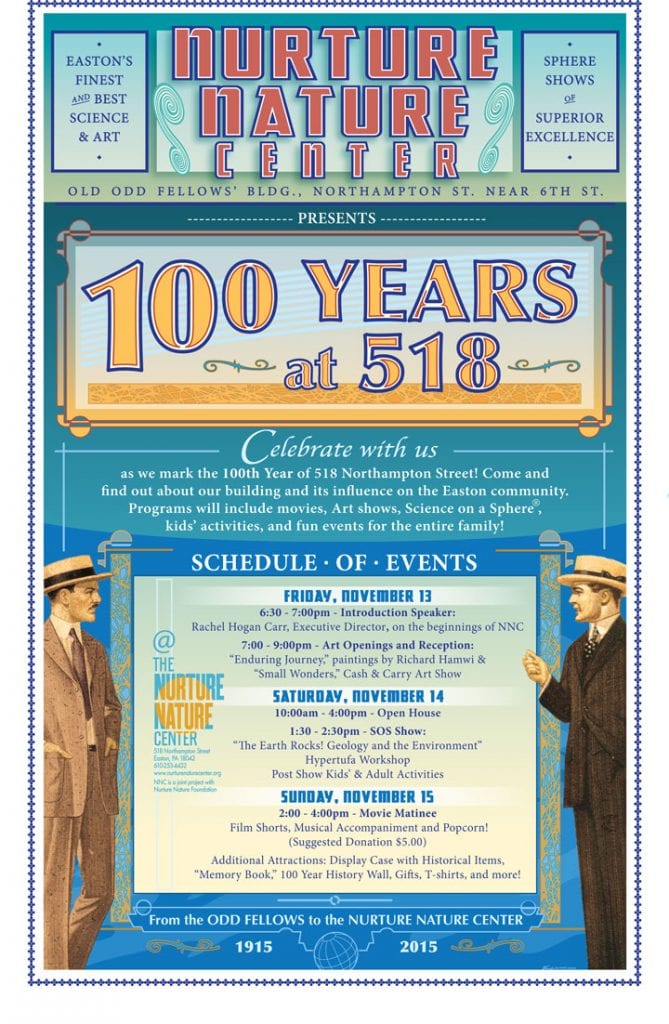 Once home to the Independent Order of the Odd Fellows, and Veterans of Foreign Wars Post 1290, the building has played a central role in Easton life for 100 years.
Nurture Nature Center, located in Easton, Pennsylvania, is housed in a beautifully renovated, historic, 30,000 square foot facility, originally built and opened to the public in 1915.
Before it was NNC's home, 518 Northampton Street was home to important organizations in Easton's community, including the Independent Order of the Odd Fellows, the Veterans of Foreign Wars in 1963, and was the home of one of Easton's first movie theaters, The Strand Theatre. From Friday, November 13th, through Sunday, November 15th, NNC will host a variety of shows, programs, and workshops to commemorate the 100th year of the organization's home, 518 Northampton Street.
The celebration will begin Friday, November 13th at 6:30 p.m., with an opening introduction by NNC Director Rachel Hogan Carr, followed by an art opening and reception from 7:00 p.m. to 9:00 p.m. for Enduring Journey by Richard Hamwi, and Small Wonders, a cash and carry art show by selected artists. Saturday, November 14th will be packed with family-friendly activities reminiscent of 518 Northampton Street's past and future, including a garden workshop from 11:00 a.m. to 12:00 p.m.; a Geology-themed Sphere Show on NNC's famed Science on a Sphere exhibit from 1:30 p.m. to 2:30 p.m., and an Easton Rocks! Creation Station from 2:45 p.m. to 3:45 p.m., where kids can break open their very own geodes, create one-of-a-kind rock rubbings, and learn about Eastonite, a mineral discovered in NNC's very own hometown. On Sunday, NNC will pay homage to The Strand Theatre, and host a silent movie matinee from 2:00 p.m. to 4:00 p.m., complete with popcorn, light refreshments and a guest appearance from Charlie Chaplin.
All events are free and open to the public. For more information on Nurture Nature Center's calendar of events, please call 610-253-4432 or visit NNC's website at https://nurturenaturecenter.org/.