NNC is pleased to welcome scientist, writer and traveler Daniel Henryk Rasolt, who will be giving a presentation: "The Tribes and Ecosystems of Colombia: A Microcosm of Our World"
Rasolt explains:
"Colombia is a country of tremendous complexity and extremes.

The beauty of Colombia is remarkable: It is one of the most culturally and biologically diverse places on the planet, with more than 80 surviving indigenous languages and territories and strong Afro-Colombian culture, two distinct tropical forests, both Atlantic and Pacific coasts, glaciated mountain peaks, "paramos," cloud forests and so much more.

However, Colombia is also a country that has suffered through conflict and exploitation since the first "conquistadors" arrived 500 years ago. Over the past six decades, due to an ongoing civil war that has only recently and prematurely declared "peace," more than seven million Colombians, disproportionately those of indigenous and African descent, have been internally displaced, and upwards of 300,000 have died due to the conflict. Lands have been stolen and deforested for the drug trade and illegal mining, as well as for cow pastures, and for multinational corporations whose extensive production drives "legal" global supply chains. Even in "post-conflict" Colombia, there has been unimaginable environmental destruction and human rights abuse.

As consumers in the "developed" world, we in the United States are largely unaware of these broader issues, but many destructive practices happen in order to supply the luxuries enjoyed in economically powerful countries. Colombia is a microcosm of many of the environmental issues that plague the world due to unconscious excess. Unsustainable land use for coal mining, massive oil palm monocultures, unregulated gold mining, expansion of cow pastures, and much more, plague the diverse landscapes of the country, resulting in deforestation, water and air contamination, and loss of biodiversity. Climate change is also leading to the loss of Colombia's mountain glaciers and threatens fragile paramos, and the increased occurence of more extreme weather events such as droughts and flooding."
Through a global perspective with localized research, scientist, writer and traveler Daniel Henryk Rasolt will be giving a talk about environmental and social issues impacting Colombia, and their relevance to challenges that face us all.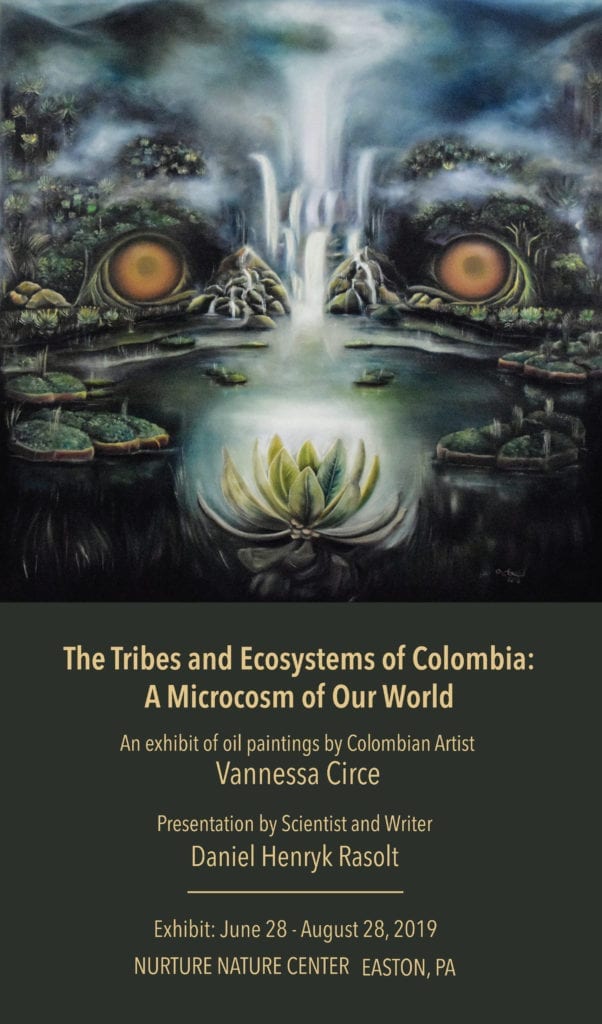 The presentation begins at 6pm. From 7pm -9pm there will be an opening reception for the accompanying exhibit: "The Tribes and Ecosystems of Colombia: A Microcosm of Our World" paintings by Vanessa Circe. This event is free and open to the public.