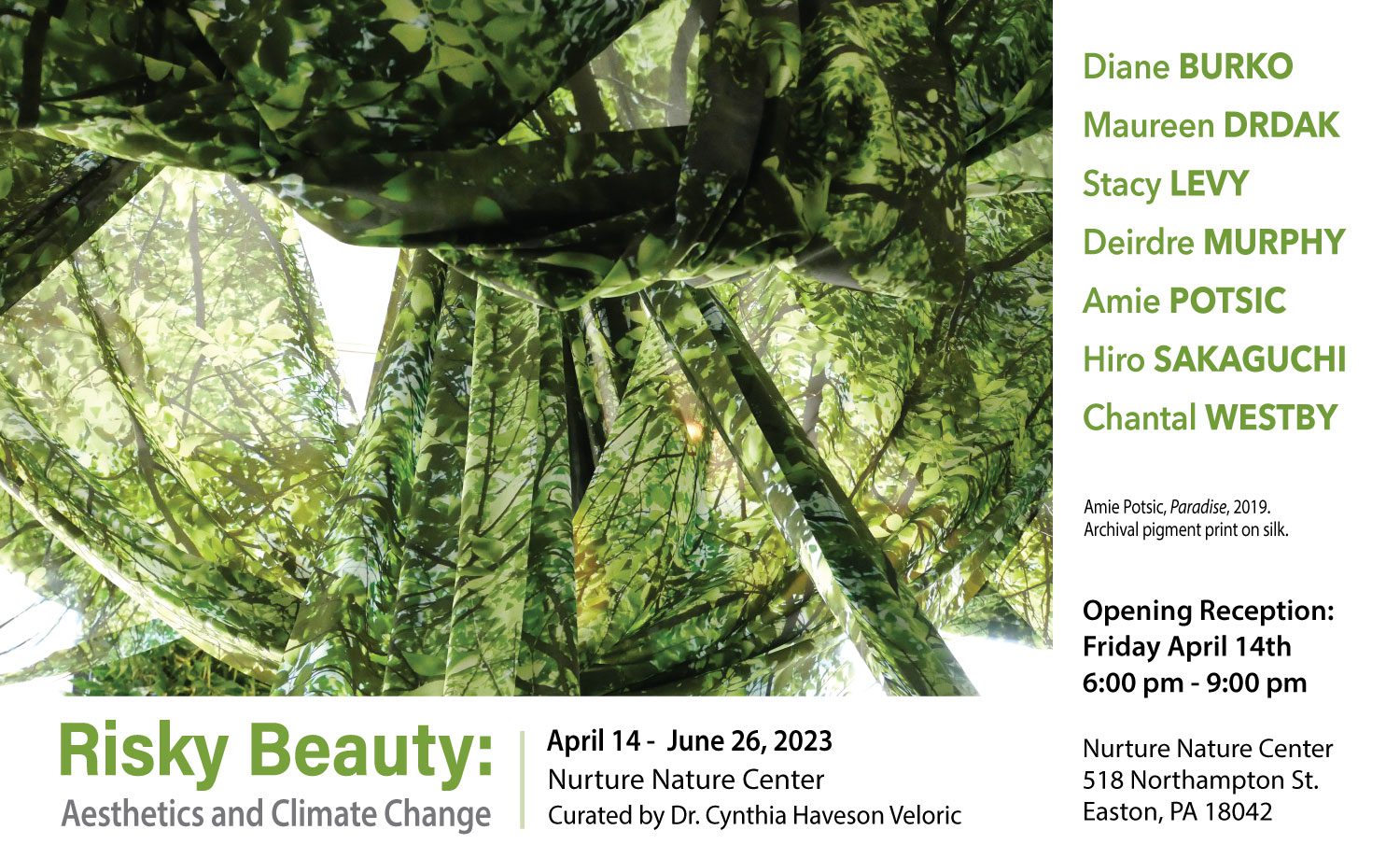 The Nurture Nature Center (NNC) in Easton will be hosting a new exhibit coming in April that features the artwork of seven Philadelphia area artists who work to engage audiences about the impacts of climate change. "Risky Beauty: Aesthetics and Climate Change" is curated by Dr. Cynthia Haveson Veloric, an art historian, writer, lecturer, and environmentalist, also from the Philadelphia area. Artists showcased in the exhibit are: Diane Burko, Maureen Drdak, Stacy Levy, Deirdre Murphy, Amie Potsic, Hiro Sakaguchi, and Chantal Westby.
"As the risks associated with climate change grow globally and locally, artists are exploring diverse methods to widen climate communications beyond the written word of scientists and journalists," explains Dr. Veloric, who has worked in the curatorial departments of several major art institutions including the Smithsonian American Art Museum and the Philadelphia Museum of Art.
This exhibit offers a variety of artistic media; drawing viewers into the sensual beauty of nature while focusing on awareness of climate change and shifting perceptions. Veloric adds, "The exhibition will challenge viewers to consider how their aesthetic experience of nature might change in light of the scientific consensus about the validity of the climate crisis, the known societal forces that hasten environmental degradation, and the impact of climate change in their personal environments."
In conjunction with this exhibit, an additional installation entitled, "Disrupted Forest" will feature the works made by Lehigh University first year students in the Art and Climate Change seminar, an experiential learning, cross-disciplinary course taught by Teaching Assistant Professor Deirdre Murphy, who is featured in Risky Beauty. "Disrupted Forest" explores the idea of environmental harm done to avian species and their fragile habitats due to plastic waste and deforestation. The students used recycled materials from the Wilbur Powerhouse, Lehigh University's maker space and design labs to create their "forest".
"Risky Beauty: Aesthetics and Climate Change" will be the second major art exhibit exploring topics of climate change at the Nurture Nature Center within a year – which is not a stretch for the organization that uses science, art, and dialogue to engage communities around the risks associated with natural hazards and the environment. Nurture Nature Center has recently been working with the City of Easton and the City of Bethlehem on aspects of their Climate Action Plans and is currently working to expand its CREATE Resilience programming through the development of a Research and Community Learning Hub whose goal is to foster communities that are "ready, responsive, and resilient" in the face of changing climate impacts and environmental hazards. NNC has received funding through the National Oceanic and Atmospheric Administration's Office of Environmental Literacy as well as additional funding through congressional appropriations for its CREATE Resilience efforts.
"Risky Beauty: Aesthetics and Climate Change" will be at the Nurture Nature Center from April 14th – June 26th, 2023 with an opening reception April 14th, 6-9 pm which is free and open to the public.