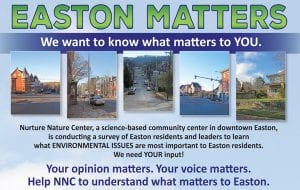 Easton Residents have a great opportunity to share their environmental concerns and priorities at Nurture Nature Center's April 7th Community Discussion Event
Nurture Nature Center will host a citywide community forum on Thursday April 7th from 6:30-8:30 pm at the Center (518 Northampton St, Easton PA 18042). Doors open at 6 pm and there will be great local food and drinks. NNC invites all Easton residents to come see photos of Easton and share their thoughts about the environmental concerns and priorities they have in their neighborhood. The event will include remarks by the Mayor, an overview of the Easton Matters project including the citywide survey, focus group and interview findings, and lots of time for discussion about what environmental issues matter most to residents. A photo exhibit showcasing photos taken by residents of the environmental priorities and concerns in their neighborhood will be on display. A special photo exhibit by local photographer Lilian June Robinson will also be on display.
NNC is striving to have a really productive conversation and seeks to have as many residents attend as possible. Please consider coming to this event and spreading the word to your Easton friends, neighbors, and family. Participants will also have a chance to win an Easton or NNC t-shirt. A flyer with details is attached.
Background on the Easton Matters project – NNC received a 2 year grant from the Institute of Museum and Library Services to conduct a community needs assessment for the City of Easton to better understand residents' local environmental concerns. The project consists of four phases: a public survey (finished in July), interviews with city officials and community leaders (conducted in January and February), focus groups (September), and this final public city-wide event on April 7th. In addition to helping the City to learn about its residents' priorities for the environment, the process will help inform Nurture Nature Center's future programming, and will build NNC's capacity to serve as a resource for the community. A final report of findings and recommendations for next steps will be made available this summer.
Contact Kate Semmens ksemmens@nurturenature.org with any questions.