Nurture Nature Center is excited to share a new activity book we created with NOAA's Office of Education!  "Climate Resilience in Your Community" has six main sections focused on education and resiliency vocabulary, community resources, traditional ecological knowledge, community preparedness, environmental justice, and taking action. Learners complete a crossword, iSpy activity, research information about their community, write their own news story, and prepare an action plan, among other activities. The activity book introduces young learners to a variety of topics from climate change and resiliency to citizen science and environmental justice.
The book aims to make NOAA's Environmental Literacy Program's Theory of Change more accessible and targets upper elementary and middle school ages (grades 3-8).  Additionally, learners can earn a resiliency badge after they tally up the points for completing the various sections.  The five badges correspond to the U.S. Climate Resilience Toolkit steps and highlight the importance of the process and journey to resiliency:
Explore Hazards
Assess Vulnerability and Risks
Investigate Options
Prioritize and Plan
Take Action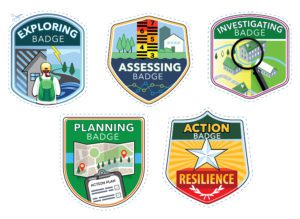 An educator's guide was also developed to supplement the activity book and help educator's integrate the materials into their lessons.  NNC Science Director, Kathryn Semmens, co-authored the book, and NNC Art Director, Keri Maxfield, designed the activity book.  NNC Resident Artist, Tom Maxfield created some of the images used in the Traditional Ecological Knowledge section.
You can check out NOAA's website for more information and access a digital version of the activity book and educator's guide.
Contact Kate, ksemmens@nurturenature.org, with questions.