On October 27, 2021, the City of Easton adopted the proposed Climate Action Plan (CAP) developed by Nurture Nature Center with public and stakeholder input.  The CAP's development was led by NNC Science Director, Kathryn Semmens, through the Pennsylvania Department of Environmental Protection's Local Climate Action Program 2020-2021.  The program provided technical assistance through DEP contractor, ICLEI USA, to help municipalities (matched with a college student) develop GHG inventories and climate action plans. Dr. Semmens participated on behalf of Easton and worked with Muhlenberg student Sam Borick, NNC project assistant Lauren Fosbenner, and the Easton Environmental Advisory Council to draft the CAP.  The CAP incorporated feedback through a stakeholder group, surveys, virtual public meetings, and one-on-one interviews with community members.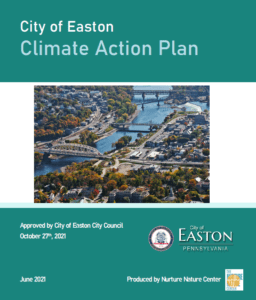 NNC is thrilled the City of Easton has adopted the plan and is coordinating efforts to help kick off implementation.  The PA DEP has committed funding for a shared energy manager to assist Easton with technical elements of the plan, and NNC is developing projects related to education and outreach, including creating a dashboard for tracking progress.
It is wonderful to have Easton's leadership recognize the value of sustainability and the need to take action around climate change.