Nurture Nature Center is excited for the start of its Youth Climate Leadership Series – a free program for middle and high school youth that will explore climate change topics and how youth can make a difference in their future.  The program meets for 10 sessions meeting the 2nd Saturdays of each month starting September 11th, 2021 from 1-2:30 pm. Topics include environmental justice, nature-based solutions, green schools, sustainable energy, careers, and local, state, and international policies, among others.
The program also includes an art program for those interested. NNC will engage students in creating mixed-media works of art that model positive, environmentally-friendly actions that can be taken to mitigate climate change. NNC's Art Director will guide students through this arts-based process which will culminate in an exhibit at the center in April 2022.
Share with any youth you know! More details about the program are available here and youth can register for the Art Program here.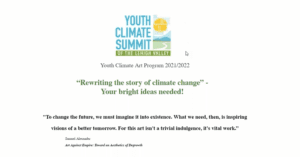 Financial and other support for Youth Leading the Way: an education and leadership program in the Lehigh Valley has been provided by the Department of Environmental Protection's 2020 Environmental Education Grants Program.