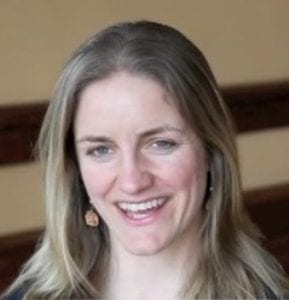 Rachel Hogan Carr has served on Nurture Nature Center's board of directors and been Executive Director of the organization since its inception. Carr helped to conceive the idea for NNC and presided over the grand opening of the center's exhibition and educational space. At NNC, Carr is the person with first line leadership responsibility for managing staff and strategic planning. She has been, as well, the principal person in charge of carrying out some of NNC's most important grant work. She led the seminal Flood Safety Education and Awareness Campaign in the Delaware River Basin ("Focus on Floods"), a cooperative project with National Oceanic and Atmospheric Administration (NOAA) and National Weather Service, which secured five local and national awards. (see www.focusonfloods.org). Carr was Principal Investigator on two social science research studies funded through NOAA. The first, Flood Risk and Uncertainty: Assessing the National Weather Service's Flood Forecast and Warning Tools, which focused on river flood forecast and warning tools, released a series of recommendations for improving NWS products (see http://socialscience.focusonfloods.org). Carr was also Principal Investigator for a second project, They Had the Facts, Why Didn't They Act?: Understanding and Improving Public Response to NWS Coastal Flood Forecasts, funded through NOAA Sea Grant's Coastal Storm Awareness Program, which also made recommendations for the use of emergency briefings and other coastal flood forecast products.  Rachel was also co-PI on a third social science study about the use of NWS's new Hydrologic Ensemble Forecast System (HEFS), in partnership with East Carolina University through a NOAA-funded grant, and is currently PI on a second project related to HEFS involving focus groups in California, Colorado and New York.  Results of this study will be released in Spring 2020.  Rachel also managed a project with Federal Emergency Management Agency/New Jersey Department of Environmental Protection for coastal flood outreach for New Jersey, and three other contracted projects working with agencies including Weather Prediction Center, Pennsylvania Emergency Management Agency and National Weather Service. Carr was named 2011 Informal Science Educator of the Year by the American Meteorological Society for her role in developing the Focus on Floods education campaign with National Weather Service. In 2019, she received the Media Award from the New Jersey Association of Floodplain Managers for a radio interview on WHYY-FM in Philadelphia about weather warnings. She is a member of the NWS Middle Atlantic River Forecast Center Customer Advisory Board and the Committee on Effective Communication of Weather (Water) and Climate Information of the American Meteorological Society. She has also served on the NWS State College Weather Forecast Office Integrated Weather Impacts Team, the New Jersey Coastal Outreach Advisory Team, the NWS Service Assessment Team for the 2015 North and South Carolina floods, and two subcommittees of the Federal Emergency Management Agency's Technical Mapping Advisory Committee (TMAC).
Carr has spoken widely about how to engage the community in understanding and addressing the risks they face, including engagements for: American Meteorological Society; the Pennsylvania Floodplain Managers Association; the New Jersey Emergency Preparedness Association;  NOAA Science Days;  FEMA Region III; FEMA TMAC; and others.

Before she began her work with NNC and its partner nonprofit, the Nurture Nature Foundation, Carr worked for Northampton County Communities That Care® (ProJeCt of Easton), where her responsibilities included coordinating community collaboration to provide increased protection for youth through implementation of research-based programming among member agencies.
Carr has played an important role in a wide range of civic activities. She is on the advisory council for the Easton Hunger Coalition, serves on the Easton Community Partners Forum, and is a member of the Board of Governance for Karl Stirner Arts Trail, Inc. She served as Chair of Education/and Marketing for the Easton Environmental Advisory Council, and as Vice Chair of the City of Easton Home Rule Charter Government Study Commission. She was co- founder of and led the Downtown Neighborhood Association in Easton, which organized the community to address pressing issues related to crime, neighborhood improvement and civic engagement. She also served as a member of the Board of Directors of Delaware and Lehigh National Heritage Corridor, Inc.
Carr has an M.A. in Environmental Policy Design from Lehigh University, where she wrote her thesis on Community Identity and Actionable Risk Communication: A Theoretical Framework for Motivating Flood Preparedness. Before that she studied at Pennsylvania State University, where she was Editor-in-Chief of The Daily Collegian, and graduated from Moravian College.  She is a certified floodplain manager.